People, these days, are living a very busy lifestyle with minimal or no chance to take care of their body.
A body without rest and flexibility is very dangerous as it can cause several health issues in the long run such as joint pains, body pains, muscle tension etc…
Fortunately, one can easily avoid such health problems with a good body massage.
If you don't have anyone to massage your body or don't want to trouble your loved ones every day, then you can invest in the best massage chair for the full body.
However, the downside of massage chairs is their pricing.
Yes, these recliner chairs are very expensive and not everyone could afford them.
Luckily, there are a few brands that manufacture handheld electric body massagers that are both portable and pocket friendly.
What are Body Massager Machines?
These are nothing but portable vibrating machines that mimic the masseuse and helps increase the blood flow and relaxes your muscles.
And, using the dedicated vibrational massage techniques, you can reduce pain and inflammation in any particular area.
These full body massager machines are ideal for those who don't want to spend a lot on the massage chairs but still want to enjoy relaxing body massage at the comfort of their home.
These portable body massagers come with various options (speed settings) that help you get rid of certain pains very easily.
Benefits of Full Body Massage:
Getting a regular massage for the full body, at least once or twice a week, has numerous health benefits such as:
Reduces anxiety & stress
Rejuvenates & relaxes muscle tension
Increases blood circulation
Promotes good sleep (cures Insomnia)
Boosts your mood & makes you more creative
Helps get relief from migraines, neck pain, back pain, shoulder pain etc…
Helps with Fibromyalgia (a condition with overall body pains)
List of Best Body Massager Machines in India
1. SONICTENS Advanced Body Massager for Pain Relief
This is a very advanced full body massager machine for pain relief and muscle relaxation.
The Ultracare Pro SONICTENS body massager uses dual technology – Ultrasound (Sonic) and Transcutaneous Electric Nerve Stimulation (TENS) in order to provide advanced massage experience.
The Ultrasound helps you get relief from pain by increasing your blood circulation.
Whereas the TENS releases the electrical pulses to target the nerve pain.
Both these techniques help increase the endorphin levels in your body (natural pain killer), thereby effectively reducing your pain.
It is found in the clinical trials that the massager is able to cure nerve & muscular pain with up to 90% efficiency.
It is also CE and FDA approved so that you don't have to worry about its effectiveness.
Warranty: You get 1 year warranty from the manufacturer.
Customer Care: You can always contact the support team by calling them @ 09512108456 from 10 AM to 7 PM on all working days or simply send them an email – info@ultracarepro.in to get your issues resolved.
2. Dr Physio (USA) Eva Body Wand Massager Machine
Unlike the UltracarePro massager, EVA is a cordless body wand massager with rechargeable option.
Yes, you can use the wand body massager both with and without plugging the power cord to the outlet.
To recharge the device, you simply connect the cable to any USB port.
The handheld full body massager comes with 28 powerful vibrating patterns and 8 intense speed settings.
It is very portable and makes less noise while operating.
It can be used as an overall body massager and with the soft bendable silicone head, you can effortlessly massage your legs, feet, neck and shoulders.
The EVA want massager is also completely waterproof i.e., you can use it even under the shower or while bathing.
Warranty: You get around 1 year of manufacturer warranty on any defects with the device.
And, by registering on the official website within 15 days, you'll get an additional 6 months of free extended warranty.
If you want a budget wand massager, then you can go for the WellNex handheld body massager that has the similar design & features but comes at a lesser price.
3. Dr.Trust Physio Electric Full Body Massager
Dr Physio is one of the top brands when it comes to body massagers and their devices come with amazing build quality and powerful functionality.
The device comes with 4 massage heads (wave massage, dead skin removal, scraping and rolling heads) that help relieve pain naturally by delivering deep tissue massaging.
It comes with an ergonomic handle that has a good grip while performing the massage on several hard to reach parts of the body.
You can perform targeted massage on different areas like legs, buttocks, back, neck etc…
You can attach the body massager to a wall outlet and the provided cable has good length.
The massage heads can be changed according to your needs or whenever required.
And, if you remove the proactive cover and turn the anti-clockwise rotation, you can even get a head massage.
The full body massager is very lightweight and consumes around 220 W of energy.
Warranty: You get 1 year of warranty on any defects from the manufacturer. Get additional 6 months of extended warranty for free by registering on their official website within 15 days after the purchase.
Customer Care: Call the support team @ 7527013265 / 18002709565 (Toll Free) for any repairs/queries related to the product.
If you find the design a bit bulkier, you can also go for the Hammer Massager from Dr Physio that has similar features but comes with a different design.
4. Lifelong LL27 Electric Handheld Full Body Massager
If you're looking for the best budget body massager in India, then LifeLon LL27 massager is just for you.
It comes for a very affordable price of around Rs.1000 but features the similar design and specifications as that of the electric body massager from Dr Physio.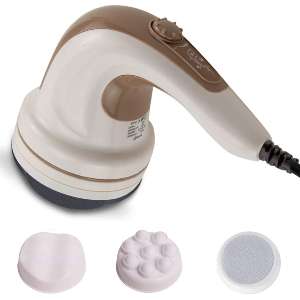 The device comes with 3 interchangeable massage heads that offer different experiences based on the speed settings you choose from.
You can place the massager on any part of your body where you feel the pain like your hips, buttocks, stomach, thighs, chest etc…
It also helps you burn the fat from such areas in addition to relieving the pain and soreness of your muscles.
And, since the vibrational massage techniques help increase the blood flow, you'll also see that your loose skin gets tightened naturally after a set period.
Warranty: 1 year on any manufacturing defects.
How to Choose the Best Body Massager in India?
If you don't want to spend your money going to the local spa or saloon to get the massage from a professional masseuse, then you can confidently go for the electric handheld body massagers as they are budget friendly and can be used anytime you like.
However, selecting the wrong body massager can damper your massage experience and sometimes can cause negative health effects if the device is not of good quality.
So, in this article, we have provided the ultimate body massager buying guide that helps you understand the features to look for in the device.
1.Massage Techniques:
Almost every body massager machine that you find in the market comes with some default massage techniques and each technique serves a dedicated purpose.
Shiatsu – A Japanese acupressure technique that helps relieve the muscle tension and increases blood circulation.
Kneading – It is a deep tissue massage that is useful in treating or reducing the joint pains and effectively brings down your anxiety/stress levels.
Tapping – A gentle technique performed slowly in a sequence so that your pain is either reduced or minimized naturally. It is usually ideal for use on small regions like your back, neck and the calves.
Knocking – Continuous vibrations with short pulses in between to relax your muscle soreness.
Out of all these massage techniques, Shiatsu is usually preferred as it combines different techniques into one and is suitable for all people with varied needs.
So, try to get a body massager with Shiatsu massage technique feature.
2.Adjustable Speed Settings:
Without the option to adjust the speed settings according to your comfort levels, a device won't be called as the best body massager.
Try to get the electric massager machine with low, medium and high speed settings so that you can customize the vibration speed to suit your comfort levels.
3.Massager Attachment Heads:
Most full body massagers these days come with changeable massage heads, each serve a different purpose.
Kneading Massage Head – Ideal for deep massage
Wavvy Massage Head – Provides soothing deep tissue massaging
Ball Massage Head – Good for muscle toning and deep massaging (can be used with oils)
Flat Massage Head – Ideal for fat burning
Micro-Fiber Massage Head – Helps remove dead skin & callus from your feet
Scrapper Massage Head – Makes your skin look better; Also remove dead cells; Good for blood circulation
Scalp Massage Head – Offers Mind & Body Relaxation; Also good for hair growth.
Always remember to choose the body massager with multiple massage heads so that you can change the type of massage based on your liking or comfort.
4.Design & Portability:
The design or shape of the massager is also very important as it helps you glide the machine smoothly across the different parts of your body.
If the size is very big, then you won't be able to reach the hard-to-reach areas effectively.
And, since you have to hold the massager for longer periods, always ensure that it has less weight and is more portable.
You can either choose from elongated massagers or short massagers depending on your requirements.
5.Cord Length:
Most people usually neglect the length of the cable but it is very important for a massager to have a lengthy cord as you'll be able to use it comfortably without having to worry about the power plug coming out of the electric outlet more often.
6.Power Consumption:
This may not be a deciding factor for many but if you use the body massager regularly, then you should consider getting an electric massager machine that consumes less power.
This can save you a lot of money, in terms of electricity bills, in the long run.
7.Brand Warranty:
Most popular massager companies in India like Dr Physio, Ultracare Pro, LifeLong, HealthSense etc… usually offer a minimum of 1 year manufacturer warranty on any defects or issues with the product.
And, some brands also offer 6 months of free extended warranty if you register on their website within 15 days of buying the massager.
So, always choose the best body massager with longer warranty periods.
FAQs – Full Body Massager Machines
Is it Good or Safe to Use a Body Massager?
Of-course, the body massager is very useful in getting relief from body pains and muscle relaxation. However, you should be careful not to use the massager on the sensitive areas like the throat, neck and eyes.
What is the best vibrating massager in India?
The UltracarePro SONICTENS is the most advanced full body massager in India at the moment. But, if you want a budget option, then go for Dr Physio electric handheld body massager, which serves the purpose.
Can massage damage the nerves?
Nerve injury is not very commonly seen in the massage process. However, you should be aware that excessive pressure on sensitive areas like the neck, throat and even the shoulders can be risky.
Are the body massagers really beneficial for back pain?
Yes, the body massagers are really helpful in reducing your back pain problems.
Regular massage at the back pain source areas like the neck and the shoulder can be very helpful. But, avoid putting too much pressure on the body.
Final Words:
The electric body massagers are definitely one of the best investments for your health and body relaxation after a tiring day.
We have listed the best body massager machines in India with pros and cons.
Now, it is your time to pick the one that fits your budget & requirements.