If you're looking for the best dishwasher for Indian cooking, then you've come to the right place.
Washing utensils after cooking/eating is one the most hectic jobs for anyone, especially for women as they have to cook and also do the cleanup.
Since it is not very easy to maintain an Indian maid/servant to clean the utensils these days, there is a high need for automation.
And, that is where the Electronic Dishwashers come into play.
Top 10 Best Dishwashers in India 2021
| Top Dishwasher Brands | Place Settings | Wash Programs | Water Consumption | Warranty |
| --- | --- | --- | --- | --- |
| 1.IFB Neptune SX1 (Best Dishwasher for Indian Kitchen) | 15 | 8 | 9 Liters | 2 Years |
| 2.Bosch SMS66GI01I Dishwasher (Runner Up) | 12 | 6 | 9.5 Liters | 2 Years |
| 3.Bosch SMS66GW01I Dishwasher | 12 | 6 | 9 Liters | 2 Years |
| 4.IFB Neptune VX Dishwasher | 12 | 9 | 9 Liters | 2 Years |
| 5.IFB Neptune FX Dishwasher | 12 | 9 | 12 Liters | 2 Years |
| 6.Voltas Beko Table Top Dishwasher (Made in India) | 8 | 6 | 9 Liters | 2 Years |
| 7.Faber Dishwasher | 12 | 6 | 9 Liters | 5 Years |
| 8.LG D1451WF Dishwasher | 14 | 9 | 9.5 Liters | 2 Years |
| 9.AmazonBasics Dishwasher (Budget Friendly) | 12 | 7 | 11 Liters | 2 Years |
| 10.Faber Table Top Dishwasher | 8 | 6 | 8 Litres | 2 Years |
They not only automate the cleaning job but also saves you a lot of money in the long run.
However, most of the people have a few doubts regarding the dishwashers for Indian dishes.
So, in this article, we'll not only be discussing the most common queries of an Indian wife regarding dishwasher machines (Buyer's Guide & FAQs) but would also list the top 10 automatic dishwashers in India with highest efficiency.
Best Dishwasher for Indian Cooking
1. IFB Dishwasher – Neptune SX1
The Neptune SX1 is a fully automatic front-loading dishwasher with 15 place settings and 8 wash programs.
It is suitable for large families with up to 6 members.
One place setting comprises of a single glass, dinner plate, soup bowl, desert plate, tea cup with saucer, spoons, fork and knife.
There is a separate mug shelf in the upper rack which is adjustable.
The racks can be folded and baskets can be shifted for maximum space utilization.
It comes with Eco wash feature which uses less water and minimum resources to clean the utensils.
It supports half-load option which means you can load fewer utensils and still clean them.
There is a built-in water softening device that dissolves detergent better for stain-free cleaning.
Features:
Model: Neptune SX1
15 place settings
Free-standing
Front-loading
Adjustable racks
Built-in heater
Aqua Energie water softener
45 dB Noise level
9 Liters of water consumption
240 volts power consumption
No: of shelves: 4
A++ rating
2 years warranty
2. Bosch Dishwasher – SMS66GI01I
The Bosch dishwasher comes with 12 place settings and 6 different programs. All you need to do is place the utensils inside the dishwasher machine and leave the rest to the machine.
It has automatic sensors that help determine the load and required water clean the plates.
It comes with Eco Silence Drive, thus it requires less power to function.
Half-load function lets you not wait for the complete load.
It heats the water up to 70 degrees, thereby eliminates 99.9% of bacteria. You also don't have to pre-rinse the utensils prior to placing them inside the machine.
You can place larger utensils like kadhais or pressure cookers without any problem.
It comes with child lock feature too.
Features:
Model: SMS66GI01I
Capacity: 12 Place Settings
6 Wash Programs
Water Consumption: 9.5 liters
Ecosilence Drive: Consumes very less power
Half-load function
Comes with Top shower, aqua sensor and load sensor
Free Standing
Front Loading
240 Volts
2 years warranty on the product & 10 years of rust proof warranty on the inside tub
3. Bosch Dishwasher – SMS66GW01I
This dishwasher from Bosch comes with 12 place settings and 6 wash programs which include:
Intensive Kadhai – Perfect for Indian utensils or heavily soiled dishes and cookware
Express Sparkle – Cleans & dries normally soiled dishes within 60 min.
Half Load – To wash fewer utensils
Extra Dry – For drying efficiency
VarioSpeed – Reduces wash cycle time by 50% without compromising on cleaning and drying
AquaSensor – Senses the soil level and adjusts the water usage accordingly
It is suitable for families with up to 6 members. It is also one of the best dishwashers under 30000 rupees.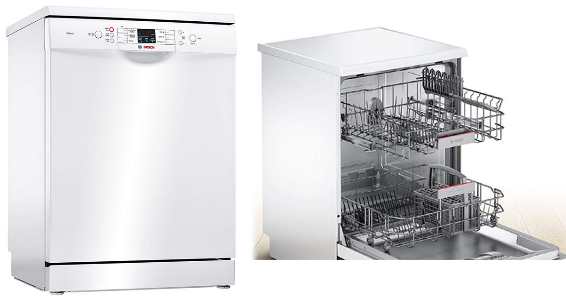 One place setting = tea cup with saucer + glass + soup bowl + dinner plate + dessert plate + knife + spoons + fork.
The dishwasher cleans and dried oily & masala stained utensils, cooker etc…without any pre-rinsing.
It uses hygienic wash settings to kill up to 99.99% of germs and bacteria from the plates.
It consumes 9 liters of water per day
Features:
Model: SMS66GW01I
12 place settings
6 wash programs
Stainless-steel body
Free-standing
Front Loading
Power consumption: 220 volts
Water consumption: 9 liters
2 years comprehensive warranty on product
4. IFB Dishwasher – Neptune VX
IFB products are known for hefty price tag but comes with durable build quality and highest degree of efficiency when it comes to the functionality.
This freestanding IFB dishwasher comes with 12 place settings capacity and 2 wash arms.
The Jet wash mode lets you wash utensils like coffee mugs that are less soiled in just under 18 minutes, thus making it one of the fastest dishwasher program in the industry.
The machine saves water by restricting the usage to just 9 liters.
It comes with adjustable racks so that you can place larger utensils without any worries.
There is a half-load function that lets you use any 1 of the baskets.
If you have glassware items, you can use the steam drying function to not let it leave any drops on the items.
It also has water softening functionality that softens the water up to 60 dh, thus improves the efficiency of the detergent.
Features:
Model: Neptune VX
Freestanding
Smart design
12 place settings
9 washing programs
Flexible half load
2 Water spray arms
Jet Wash
Steam Drying
Water Softening Device (Upto 60 dH)
Child safety lock
240 Volts
2 years comprehensive warranty on product
5. IFB Dishwasher – Neptune WX
This is one of the most affordable automatic front-loading dishwasher in India at the moment.
This IFB dishwasher comes with 12 place settings and 9 different wash programs (Crockery, crystal, express, extra heavy soiled, heavy soiled, mix load, pots, pre wash and energy saver)..
All the IFB dish washing machines have the water softening feature that softens the water up to 60 dh, thus increases the efficiency of the detergent.
There is also a 3-tiered heavy soiled program that is a perfect fit for Indian utensils. The utensils are first pre-washed with water at 50 degrees celsius, which are later thoroughly washed with water at 70 degrees celsius, thus making them hygienic.
The Adjustable shelves let you insert larger utensils like pressure cookers or kadhai's easily.
It is ideal for family with 6 members.
Features:
Model: Neptune WX
12 Place Settings
9 wash programs
12 Liters water consumption
Free-Standing
Front-Loading
Water Softening Device (up to 60 dh)
Heavily Soiled Program
Adjustable Upper Basket when Empty
Noise Level: 52 dB
Water consumption: 22.7 L
Energy consumption: 2.2 KW
240 Volts
2 year product warranty
6. Voltas Beko Table Top Dishwasher
Unlike the other dishwashers in the list, the Voltas Beko is a counter top dishwasher with 8 place settings and 6 wash programs.
It is also the best dishwasher under 25000 range.
You can use the waterproof touch control panel to access the different settings of the machine.
It is very easy to install and fits in any part of your kitchen.
It is perfect for nuclear family of 3 to 4 members.
There is a built-in heater which supports up to 70 degree celsius wash temperature to kill up to 99.99% of germs and bacteria from the utensils.
It is not only energy efficient but also water efficient and easy to use.
Features:
Model: DT8S
Table top dishwasher
Easy to install
8 place settings
6 wash programs
Free-standing
Stainless-steel
240 volts
Energy efficient
Warranty: 2 years comprehensive / 5 years only on motor
7. Faber Dishwasher – FFSD 6PR 12S
This dishwasher from Faber comes with 12 place settings and 6 wash programs.
From intensive to rapid, the dishwasher is capable of cleaning utensils of different types and suits multiple washing needs.
You can use steel vessels, glassware, ceramic dishes and several other types in your BPL Dishwasher.
The Half-load feature lets you load fewer dishes and save more water and energy at the same time.
It is ideal for families with up to 6 members.
The contemporary design of this machine blends well with most kitchen interiors.
It has a digital LED display with buttons to access all the settings of the dishwasher.
The water consumption is minimal and electricity as well.
Features:
Model: FFSD 6PR 12S Neo Black
12 place settings
6 wash programs
Half-load feature
Free-standing
Front-loading
Noise Level: 49 dB
220 Volts
Energy & water efficient
5 years comprehensive warranty on product
See: Faber also has a lineup of
Kitchen Chimneys
to keep your modern kitchen clean and green.
8. LG Dishwasher – DFB424FP
Most of the Indians are fond of LG products and there is no surprise in saying that they've captured the market with lots of quality products in different categories, especially in the home appliances niche.
The LG dishwasher comes with 14 place settings and 9 wash programs (dual wash, auto, eco, gentle, Quite, Turbo, Quad wash and quick).
It has Smart rack system, which allows loading of utensils of different sizes.
There is also an Inverter direct drive motor that saves energy. The machine also makes very less sound (45dB) and provides higher efficiency at the same time.
It has an LED display for better view of the functions.
It comes with child lock.
Features:
Model: DFB424FP
14 place settings
9 Wash Programs
Four Washing Arms
Free standing
Front-loading
Smart rack system
Inverter direct drive motor
Time Delay: 1 to 19 hours
Child lock
Others: refill indicator, auto restart, delay start, error display, aqua stop and triple filter
2 years comprehensive warranty on the product
9. AmazonBasics Dishwasher
The dishwasher comes from a well reputed brand, Amazon, which is known for making products with best quality and advanced features in less price.
This is a front-loading dishwasher with 12 place settings, 7 washing programs and 3 wash options.
You can wash utensils of different sizes without any issues.
It comes with a frequent-start-delay settings, adjustable racks, temperature settings an multiple speed & drying options.
You can access the utensils any time from the top.
The machine comes with automatic detergent detection, aqua sensor and load sensor.
Features:
Model: AB2020DW002
Free standing dishwasher
12 place settings
6 wash programs and 3 wash options
Automatic detergent detector, aqua sensor, load sensor
Top shower for best wash
Reduces up to 60% wash cycle
Low noise (49 db)
Power Consumption: 0.9 Kilowatt Hours
Water Consumption: 11L per cycle
2 yrs on the product and 5 yrs anti-rust warranty for the inner cavity
10. Faber Table Top Dishwasher – FFSD 6PR 8S
If you don't have enough floor space to keep the dishwasher in your kitchen, but the counter is free, then you can go for the counter top aka table top dishwasher from Faber.
It comes with similar features as that of the regular free standing dishwasher but with some slight modifications.
The Faber dishwasher comes with 8 place settings, 6 wash programs and suit the Indian utensils pretty well.
The Eco Silence Drive feature saves power without compromising on the efficiency.
It has load sensor, electronic delay timers, and partial load options.
The Aqua Stop feature helps determine the leakages and instantly cuts the water flow.
Features:
Model: FFSD 6PR 8S Ace Black
Counter Top

8 place settings

6 wash programs (normal, intensive, eco, glass, 90 min and rapid)
Half Load Option
8 litres water consumption
Low noise (49 dB)
2 years warranty on product & 5 year rust through warranty
How to Buy the Right Dishwasher for Indian Utensils?
Dishwashers are a definite home appliance in the western countries like the US. But, it's just a few years back that the dishwashers are introduced in the Indian market.
Yet, they have gained a huge popularity among the Indian household within no time.
Here are some of the major factors to consider while purchasing a dishwasher for your home.
1. Types of Dishwashers:
There are 2 types of dishwashers available in India: Built-in and Counter models.
Which model to choose depends on whether you are living in your own house or a rented apartment.
Each model has its own pros and cons. Let us see them in detail.
A] Built-in Dishwashers:
These are the most common type of dishwashers used in most houses, especially in own buildings. Since, they are a permanent fitting, you'll need to allocate a separate space to install it.
You'll also need to provide inlet pipe and outlet duct connected to the drain.
| | |
| --- | --- |
| Benefits | Drawbacks |
| Reasonable Cost | Requires Permanent, Separate Space; Hence, ideal for people with own houses. |
| Noise Free Operation | Heavy body |
| Easy to Use | |
| Multiple Color Options Available | |
B] Countertop Dishwashers:
These are the most economical dishwashers for Indian homes who move frequently from one place to another i.e., living in a rented space.
You don't have to worry about allocating separate space for your dishwasher. There is no installation as well. Just get a dishwasher, connect the pipe to sink faucet in your kitchen for water intake and a power source to make the dishwasher function.
Generally, the countertop dishwashers come with 4 place settings and are smaller in size compared to built-in dishwashers.
But, you might feel that your kitchen is congested if it you've a small kitchen counter space.
| | |
| --- | --- |
| Advantages | Disadvantages |
| Very Economical | Has less internal space for utensils |
| Suitable for Small Families or Rented Houses | Acquires counter space in the kitchen |
| Hassle-free Operation | |
2. What Load Capacity is Right for You?
This is a very crucial factor in deciding the best dishwasher for your home needs.
If you're a large family, then your requirements are different than a small or medium family.
The load capacity of a dishwasher depends on the number of place settings it has.
According to AHAM, 1 place setting accommodates 1 large plate, 1 snack plate and 1 small saucer. It can also hold a glass, mug, 2 teaspoons and 2 forks of different sizes.
Typically, Indian dishwashers come in two sizes – Compact and Standard.
A] Compact Size: If you're a family with 2 to 3 heads, a compact size dishwasher works just fine for you. It comes with 6 to 8 standard place settings and is 18 inches in size.
B] Standard Size: If you're a family with 4 heads or more, then a standard dishwasher should be considered. It comes with 12 to 14 place settings and is 24 inches in size.
| | | |
| --- | --- | --- |
| Family Size | Load Capacity | Size |
| Small | 8 setting | Compact |
| Medium | 12 setting | Compact or Standard |
| Large | 16 setting | Standard |
| Giant | 16+ setting | Standard |
3. What Pre-Built Wash Programs You Need?
All dishwashers come with 3 built-in wash programs, which include light, normal and heavy wash cycles.
The main difference between these cycles is their duration, the temperature of the water and intensity of the wash cycle.
Say for example, if you wanted to wash cooking utensils like kadai with deep fried items, then you'll need to set the cycle to heavy wash and vice versa.
Apart from these 3 cycles, several other settings were introduced by the latest dishwasher machines, which include –
Quick Wash
Regular Wash
Heavy Wash
Smart Wash
Steam Wash
Energy Saving
Rinse Action
Glassware Wash
Sanitation
4. Do You Need Drying Mechanism?
Besides cleaning the utensils, the latest dishwashers also come with drying option to remove the wetness and moisture completely. This is a very beneficial feature as it would save a lot of time and effort.
Different drying mechanisms include – Heat (not good for glassware or plastic), Fan (takes more time) and Condensation (hygienic).
5. What Control Panel Do You Prefer?
All the settings or controls of the dishwasher can be accessed on this control panel, which is usually located either on the front or upper lip of the machine.
You can choose between the touch panel or button panel depending on your budget.
6. Do You Need Hard Water Compatibility?
Don't want the dishwasher to leave stains on your utensils? Then, you should avoid using hard water. If not possible, get a dishwasher that is hard water compatible.
It does the rest by turning the hard water to soft water before using it to rinse the utensils.
Here is the illustration of water hardness levels.
| | |
| --- | --- |
| Hardness Level of the Water | Calcium Carbonate % per Liter |
| 0 to 60 mg/L | Soft Water |
| 61 to 120 mg/L | Moderately Hard Water |
| 121 to 180 mg/L | Hard Water |
| Above 180 mg/L | Very Hard Water |
7. How Much Noise Does the Dishwasher Make?
Just like any other kitchen or home appliance, even your dishwasher makes some noise. While some make less noise, a few can't be tolerated.
Check the noise levels of a dishwasher before making a purchase.
| | |
| --- | --- |
| Dishwasher | Noise Level (dB) |
| High-level | <40 dB |
| Mid-level | 40 dB |
| Mid-level | 50 dB |
| Low-level | >50 dB |
8. Is the Dishwasher Energy Efficient?
The energy efficiency of a dishwasher is set based on the BEE ratings.
Devices with poor BEE rating usually gets damaged within a very less time. So, choose the one with highest BEE star rating.
It not only saves your electricity bill but also your machine as well from the frequent power outages.
9. What Indicators or Alerts Does it Come with?
Most dishwasher machines come with built-in level indicators for the users to know in case of any problem. Here are a few common indicators found in a dishwasher.
End of Cycle – Lets you know if cleaning of utensils is done.
Salt Refill – It is particularly beneficial and is available if your dishwasher is hard water compatible. It lets you know when the salt storage is depleted and need to be refilled.
Dry Tap – If you're living in an area where there is frequent water outage problems, then you should definitely get a dishwasher with dry tap indicator. It lets you know if water is not coming from the tap so that you can switch off the machine.
10. Dishwasher Interior Built Quality
Dishwasher interiors are usually made up of stainless steel or plastic material and here are the main differences between them.
| | |
| --- | --- |
| Stainless Steel Interior | Plastic Interior |
| Costs more | Less costlier |
| Durable, compatible | Not compatible with heat dryers |
| Requires less maintenance | Requires heavy maintenance |
| Kills bacteria efficiently | Interiors get smelly often, so bacteria spreads more |
11. What Material is Used on the Exteriors?
Generally dishwashers come with stainless steel material when it comes to exteriors. You can choose either the default plain stainless steel finish or pick the black or white finish based on your personal taste and kitchen interiors.
12. Different Smart Features
To add luxury to a typical dishwasher, the companies usually add smart feature such as below.
Auto-restart – Beneficial if your area has frequent power-cuts. It starts from where it has been terminated before the power cut.
Timer to delay – Set particular time to start the washing of utensils.
Removable upper/lower Racks – Very beneficial to easily adjust the racks up or down so that large utensils are accommodated inside the dishwasher.
Sanitize mode – you can set the temperature to kill up to 99.9% of the bacteria.
Child safety lock – Prevents your children from accidentally opening or closing the dishwasher while it is working.
Half-load – If you have only a few dishes to wash, then it is the best option.
Mesh filters – Separates the food and dust particles from the utensils for better cleaning. Needs cleaning daily.
Garburator – Just like the filters, but removes solid particles from the plates and prevent them from entering again. You can also choose the auto-clean option.
Soil sensors – Monitors the food, grime and dirt quantity in each load and adjusts the water level & wash cycle accordingly.
Flood protection – It is very beneficial in case of a drain pump fail. It expels unclean water in case if the dishwasher gets flooded with water.
Eco-wash or Speed wash – If your plates or utensils are not filled with food particles, then you can use this option to wash them using less water.
Depending on the number of features, the price of the dishwasher increases.
13. What is Your Budget for a Dishwasher?
A high-end dishwasher with advanced features is always a little pricey. But the benefits you get out of it are endless. However, if you're budget constraint, then check only the required features and reduce the price accordingly.
Generally, popular brands are recommended as you'll be getting the best service from them. Trust and support system is very necessary for any product or service.
Most manufacturers provide standard warranty up to 1, 2 or 5 years and also provide service at their nearest centers. Choose the one that has good warranty and service assistance in your locality.
So, based on the warranty, brand trust, features and after-sales support, a good dishwasher price starts from Rs.20000 and goes up to 1 lakh.
Dishwasher FAQs
1. What is the need for a Dishwasher?
We're living in a world where time plays a very crucial role in one's success. So, if you want to save time cleaning your utensils, which is a boring task, invest in a dishwasher.
The machine can hold even your larger utensils like kadhais, pots, pressure cookers, pans without any issues.
Additionally, you can save money on the maid services as well.
2. How Should I load my Dishwasher?
Loading of Indian utensils usually depends on the interior layout of your dish washer.
As a rule of thumb, place all your utensils like bowls, plates and glasses on the top rack.
Cutleries like spoons, forks and knives are places on the second rack. While the larger items like pots and pans are usually placed on the third shelf.
Loading the dishwasher completely takes just 10 minutes and you can just relax, while the machine does the cleaning job.
There will be powerful spray arms in the dishwasher machine that give the dishes a clean wash just like you scrub with your hands.
Read the user's manual carefully before taking decisions by yourself.
3. Can I use regular detergents in a dishwasher?
No, you shouldn't. Dish washing soaps are formulated separately for use with dishwashers in India. Use them to wash your utensils thoroughly.
4. Can my dishwasher clean all types of residues?
Yes, your dishwasher can clean all types of masala, oil and greasy food residue from the utensils very easily. Just increase the temperature from 45°C to 70°C based on how dirty your utensils are.
5. How often should I clean my Dishwasher?
If you're using it frequently on a daily basis, then it is not required to clean the interiors more often. Just cleaning the mesh filters works fine.
But, if you don't use your dishwasher more often, then you should use a detergent and deodorizer to clean the interiors.
P.S: Don't use lemon juice if your interiors are made of steel.
6. Which items that should not be put inside a dishwasher?
Indian utensils made of wood, aluminum, iron, crystal and delicate china items are not safe to be washed in a dish washer.
7. Should I pre-rinse the items/plates before placing in the machine?
You need not to. You just need to take away the leftovers from the utensils and place them in their respective racks.
8. How to find if an item/utensil is dishwasher safe?
You'll find a dishwasher safe symbol beneath the item – denoted by a bowl or a glass under shower.
9. Can I wash cast-iron pans in a dishwasher?
No. The protective coating on the cast-iron pan might be chipped off while cleaning in a machine. So, wash them separately and manually.
10. What happens if I overload my dishwasher?
If you overload your dishwasher with more utensils than it could handle, then you'll not get 100% cleaning efficiency. In some worst-cases, your dishwasher might get spoiled.
11. Can I clean my baby bottles in a dishwasher safely?
Since the dishwasher cleans the utensils with water at 70°C temperature, there is no need to worry about the hygiene as it kills up to 99.9% germs. You can even clean your baby bottles without any worries.
12. Do dishwashers consume more water in case of water leakage?
Most dishwashers come with aquastop feature, which means that the water flow will be automatically stopped when there is any leakage. So, don't worry about over water consumption.
13. What happens in case of a power failure while cleaning?
Don't worry about power failures while in the middle of washing. The machines are intelligent enough to resume the task from where they have left.
14. Does the dishwasher require more electricity?
Most dishwashers are energy efficient and hence you don't have to worry about the electricity bill.
Conclusion:
That's all friends! Hope our list of the best dishwashers in India comes handy in picking up the right dish washing machine based on your needs and budget.