In this article, you'll find Reviews of Best Elliptical Cross Trainers in India with pros and cons.
The 2 in 1 Elliptical cross trainer cum exercise bikes have become a rage among the fitness enthusiasts as they're considered great for full body workout at home as well as at the gym centers.
Probably, the main reason behind their increasing popularity is their health benefits.
Yes, unlike the motorized treadmills, these elliptical cross trainers don't put unnecessary pressure or stress on your joints, thus making it the best exercise equipment, especially for people with joint pains or elderly ones who wanted to lose weight or get fit.
Similar to the stationary exercise bikes, the elliptical trainers have seen a huge increases in their growth from 1.1 million users to 6.7 million in the past 5 years, which is approximately 158% hike.
The benefits of elliptical trainer include weight loss, muscle building, bone density, metabolic boosting, natural toning and healthy body.
So, if you're concerned about injuries or joint pains but still wanted to reap the benefits of walking or running at the comfort of your home, then
investing in the best elliptical trainer is a wise decision
(see the
Buying Guide
and
FAQs
).
Top 10 Best Elliptical Cross Trainers for Home Use in India
Reviews of Best Elliptical Trainers in India 2021
These are the best elliptical cross trainers for commercial/gym use in India with maximum weight capacity and built-quality.
1. Afton FX-400 Steel Cardio Fitness Elliptical
Afton is one of the best exercise equipment brands in India that produce best quality products with durability and power.
The FX400 elliptical cross trainer is aimed at high level fitness enthusiasts or athletes.
It comes with 20 different magnetic resistance levels to test the users fitness levels.
You can monitor your heart rate using the built-in HR sensor (telemetry grip and chest belt).
It has a manual incline ramp of up to 15 to 30 degrees.
There are 10 motivational program settings such as manual, hill, cardio, strength, fat burn, interval, 2x user, 2 x HR controlled menu options.
Features:
Magnetic Resistance: 1 to 20 levels
Manual incline – 15 to 30 degrees
10 program settings
Backlit LCD display
Tracks calories, distance, time, heart rate, body fat etc…
Built-in speakers with mp3/ipod connectivity
Cooling fan
10.5 Kg balance flywheel
Hand pulse grips & chest belt
Transport wheels for moving from one place to another
2. Xterra FS 4.0e Cardio Fitness Elliptical Cross Trainer
If you're looking for one of the best elliptical trainers in India for commercial purposes (GYM center), then the FS4.0e is just for you.
It comes with a plethora of fitness options without compromising on the space.
It has a 8.5 kg flywheel and extra large 20-inch ellipse motion.
It sports a 5.5 inch console that displays time, speed, distance, calories, pulse and scan. It supports resistance levels up to 20.
The design is ergonomic and you don't feel the pressure on your knees or ankles while doing the workouts.
The dual-action handlebars keep your wrist from hurting by letting them stay in a neutral position.
Features:
Resistance Levels: 1-20
5.5″ Console Display
Shows speed, time, pulse, distance, calorie and scan
Extra large 20 inch ellipse motion
8.6 Kgs flywheel
Dual-action handlebars
3. WELCARE WC6020 Elliptical Cross Trainer
Welcare WC6020 is one of the best elliptical machines under Rs.30000 in India.
It comes with a hand pulse sensor and adjustable seat support so that you can use it either as an elliptical trainer or an exercise bike.
The machine comes with a 10 kgs flywheel and 8 level manual magnetic resistance control.
The oversized pedals are suitable for all feet sizes and it provides up to 18 inches of stride length.
There are 6 built-in programs that can be set according to your fitness goals.
The device comes with a 1 year manufacturer warranty and supports weight up to 110 kgs.
Features:
10 kgs flywheel
8 Level manual magnetic resistance
6 Programs (built-in)
Stride – 18″
Heart rate measurement
Vertical adjustable seat
Max user weight: 110 kgs
Easily movable
4. Reach Elliptical Cross Trainer Machine
If you're looking for a premium elliptical machine at a budget price, then the Reach is one brand that promises to provide high-end cardio workout at home.
It packs all the cardio equipment features that a gym offers.
The trainer comes with an LCD display and using an adjustable tension knob, you will be able to modify the resistance levels depending on your fitness goals.
You can place your iPad on the dashboard and sync your workout sessions.
The handle bar is stationary while performing the lower body workouts.
It has an 8Kg flywheel with 8 levels of magnetic resistance and comes with 18 inch stride length.
You get around 1 year of warranty on the product.
Features:
8Kg Flywheel
Magnetic Resistance: 8 levels
LCD display with tablet holder
Max user weight: 100 kgs
Smooth Resistance Knob
Heart Rate Monitoring
Stride Length: 18 inch
Transportation Wheels for Easy movement
1 Year warranty
You can also go for the
Welcare WC6010 Elliptical
that comes with a 9kg flywheel and 16" stride length, but comes for around 8k less price.
5. Powermax Fitness EH-250S Elliptical Cross Trainer/Cycle
The PowerMax Fitness is one of the best fitness equipment brands in India that makes high quality equipment at affordable prices.
The EH-250S is a dual purpose elliptical trainer that also doubles as a dedicated exercise cycle.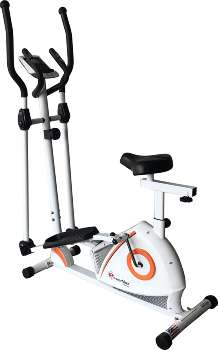 It comes with an adjustable seat (both horizontal and vertical), 4kg flywheel and 8-level manual resistance.
It has a small LCD display that shows your stats like time, distance, speed, calories and hand pulse rate.
The double action handle allows you to get a perfect upper body workout.
And, thanks to the anti-slip pedals, you don't have to worry about getting slipped off from the machine while doing the elliptical workouts.
Features:
Flywheel System: 4KG
8-Level Resistance Tension
Soft Adjustable Seat
Hand Pulse
Double Action Handle
Wheels For Easy Transportation
Max User Weight: 110KG
1-Year Warranty
6. Aerofit AF 601 ES Elliptical Cross Trainer
Aerofit AF 601 ES is another best elliptical trainer for home under 20k price segment.
It comes with an ergonomically designed adjustable seat, 5 kg flywheel and up to 8 levels of magnetic resistance.
The handle bars come in U-bar style with a built-in heart rate sensor that can be seen on the LCD display.
The pedals are extra wide and self-balanced so that they fit feet of all sizes.
It comes with up to a 1 year warranty on the product and lifetime on the frame.
Features:
Flywheel : 5 Kg
8 Levels of friction free magnetic resistance
8 levels vertical seat adjustment
User Weight : 100 Kgs
Super silent poly-V belt driven system
Self balanced wider pedals
7. Kamachi OB-330 4 in 1 Elliptical Orbitrack Bike
The OB-330 elliptical orbitrack bike from Kamachi is a 4-in-1 exercise equipment device that can be used as an elliptical trainer, stepper, twister and also comes with dumbbells.
It is easy to assemble and is ideal for all kinds of people starting from beginners to professionals.
It has dual action handles that help tone your upper body muscles as well the abs.
The twister helps reduce your side fat, while the stepper is good for working out your lower body.
There is also an extra stationary handle for additional grip and has an adjustable seat.
It has 5 digital LCD windows that show speed, calories, time spent and pulse scan.
You can also fold the twister and stepper so as to accommodate more space around the machine.
Features:
4-way adjustable seat
Dual Action Handles
Hand Pulse
Cycling with Moving Handles
Max user weight: 110 kg
8. Welcare WC6044 Elliptical Cross Trainer
Welcare is India's one of the most trusted fitness equipment brands with 4 to 5 star ratings across all the social platforms.
The WC6044 sports a large 16 inch screen LCD console that displays calories, distance, time, scan, heart rate etc..
It comes with an adjustable seat to suit your workouts. The bigger stride length gives your smooth workout experience and also reduces stress on your knees and ankles.
The 5kg flywheel helps increase the momentum of your speed and enhances your workout efforts.
Features:
Large LCD console
Manual Magnetic Resistance: 8 levels
Displays time, calories, distance, pulse etc…
5kg flywheel
Bigger stride length (14 inch)
Oversized pedals (non-skid)
Hand pulse sensors on handrails
Adjustable seat
Max user weight: 90 kg
9. Proline Fitness 335E Elliptical Trainer Machine
Proline Fitness is a well-known elliptical cross trainer brand in India and abroad with a lineup of products in all the fitness categories.
The 335E elliptical trainer machine comes with 6 different functions and a small rectangular display that shows time, distance, calories etc…
It supports up to 8 levels of manual tension and has a 5kg flywheel.
It features true elliptical motion technology that reduces stress on the joints. It also comes with large non-skid pedals for longer workouts.
There are wheels for easy transportation of the machine from one room to another.
Features:
6 workout functions
Outer magnetic resistance
Manual tension: 8 levels
5kg flywheel
Hand Pulse sensors
Large non-skid pedals
True elliptical motion to reduce stress on joints
Transportation wheels
10. Cockatoo CE03 ADVANCE Smart Elliptical Cross Trainer
The CE-03 is an advanced elliptical trainer with magnetic resistance up to 8 levels.
It sports a LCD display that shows speed, time, distance, calories, pulse, ODO etc…
There is a 6kg flywheel and 2 way bearing for best workout sessions.
This machine targets both upper and lower body and is perfect for those who're not able to go out and jog due to knee or joint problems.
The hand pulse sensors help track your steady heart rate whenever you need.
The machine incorporates transportation wheels for easy mobility.
Features:
LCD display
Shows speed, time, distance, calories, pulse, ODO
Magnetic resistance: 8 levels
Multiple program functions
Built-in hand pulse sensors
6kg flywheel and 2 way bearing
Anti-skid pads & foot pads
Budget Elliptical Trainers under ₹10000 in India
11. LifeCare Fitness Orbitrek Black 4 In 1 Elliptical Machine
The Orbitrek Deluxe is a multi-purpose exercise equipment that can be used as an arm-rower, stepper, stair climber and exercise bike.
It simulates walking and running without much impact on your knees or joints. So, it is ideal for seniors too.
This is a complete body workout equipment for home use that targets both your upper and lower body muscles.
There is a digital meter that shows the stats like time, distance, speed and calories burned.
You can easily move the elliptical from one room to another using the moveable wheels.
Features:
Digital Meter for Stats
Stride length: 16inch
Adjustable seat
Moveable wheels
Max user weight: 80 kg
12. Cockatoo OB-04 Cross Trainer Exercise Bike with Twister
The Cockatoo OB-04 cross trainer is an excellent buy for the value it offers. It suits all individual types despite their age and condition.
This 2-in-1 elliptical trainer with aerobic twister is ideal for full body workouts.
It sports a digital display that shows elapsed time, speed, distance covered, calories burned etc..
It has a 4-way seat adjustment feature that makes it more comfortable to use for efficient workout.
The design is sturdy and attractive and comes in a steel frame design.
It is recommended for people who have less space at home but want an all-in-one exercise machine setup.
Features:
Digital display
Shows time, distance, calories, speed
Sturdy design; comes in steel frame
2-in-1 elliptical trainer with a twister
Adjustable seat
Suitable for full body workouts
Compact in size
Max user weight: 100 kgs
13. Allyson Fitness 2 In 1 Orbitrek Elliptical Machine
This is one of the best and most affordable dual-action cross trainers in India with adjustable seat and pulse.
The machine can transform into either an elliptical cross trainer or a dedicated exercise bike based on your requirement.
It can be used by any individual including those with joint issues or elderly people.
Just 10 minutes of workout on this machine is equal to 300 times of walking for 10 minutes.
This all-in-one elliptical machine targets arms, chest, shoulders, chest, abdomen, back and thigh muscles and hence is highly recommended by most doctors.
When you switch the turn & burn resistance option, you could easily burn 830 calories in 1 hour.
It also comes with easy-glide-wheels to move it from one place to another in your home.
Features:
All-in-one body workout machine
Digital meter shows speed, distance, time, calories
Targets both upper & lower body muscle groups
Turn & Burn Resistance: Burn 820 cal in 1 hour
Adjustable Resistance knob
Handlebar and Seat Height Adjustment
Easy-Glide- Wheels
14. Cockatoo OB-01 Multi-Function Orbitrek Exercise Bike
The Cockatoo OB-01 is a compact multi-function elliptical trainer with adjustable strap tension and workout computer.
It comes with a digital LCD display that shows distance, calories, elapsed time and speed.
The dual-action workout arms provide good workout for your upper body while the pedals give you good workout for your lower body.
It comes with large pedals with ridges & natural elliptical motion to prevent foot slippage and reduce stress on the joints.
Features:
Compact elliptical trainer with seat
Digital LCD display
Shows time, cal, speed, distance
Dual-action workout arms
Large pedals
Natural elliptical motion to reduce joint stress
Easy tension adjustment dial
Elliptical Cross Trainer – Buying Guide India
Elliptical cross trainers are one of the best fitness equipment for low impact cardio workouts.
And, if you don't have enough time to go to a gym, then you can get one for your home and reap the benefits.
Most people don't have the basic idea about buying an elliptical trainer machine. Hence, in this guide, we'll be discussing the features you'll need to consider before buying the elliptical trainer for home.
Features:
Without good features, investing in any product is a mere waste of money.
Here are a few main features or specifications you should consider while purchasing an elliptical cross trainer in the market.
Adjustable Resistance: The more the better
Stride Length: It should be in proportion to your height
Adjustable Seat: Based on your height
Workout Arms Length
Smooth Pedals: Pick the large ones with anti-slip pads
Silent operation
Transportation wheels
Digital Display
Heart Rate Sensor
Flywheel: Pick the one with minimum 4 kg and upwards
Tension Adjustment Dial: To increase or decrease the resistance manually
1.Size:
Since, not many people would have enough space to keep the fitness equipment, it is a deciding factor while picking up an elliptical trainer machine.
Choose a compact size with transportation wheels so that you can move it from one room to another or just keep it inside a closet while not using it.
2.Cross Trainer Parts and Options:
There are different parts that make up the elliptical cross trainer machine such as:
A] Front Drive or Rear Drive
The front or rear drive refers to the location of the flywheel. You can prefer whatever you like.
But, according to American College of Sports Medicine, the elliptical trainer with rear-wheel drive is more comfortable and natural.
Whereas the front-wheel ellipticals won't give you that natural feel and hence are less pricier compared to rear-wheel elliptical machines.
B] Stride Length
The stride length is a critical feature to consider while purchasing an elliptical trainer for home use. It is measured by calculating the difference between the front and back area of the front foot.
It should be smooth on your legs and feet. The stride length generally varies between 30 to 50 cm.
As a thumb rule, elliptical trainers with longer length of stride are ideal for taller users, whereas the shorter people can get a more compact elliptical.
C] Weight Capacity
An elliptical trainer usually comes with a maximum weight capacity of 160 kg, which is ideal for home use.
The commercial use elliptical machines have more weight capacity and the prices are also very high.
D] Flywheel
Another major feature to consider is the flywheel's weight as it affects the resistance of your motion.
Generally, most elliptical trainers come with a flywheel that weighs 7 kgs minimum. The heavier it is, the pricier it would become.
E] Console
The LCD screen on the console displays all your progress (stats) like speed, distance , calories burned and other relevant information about your workouts.
Some brands also offer connectivity with fitness trackers or Smartphones to provide more in-depth analysis of your workouts.
F] Programs
Most popular elliptical trainer brands offer in-built workout programs that help you perform variety of elliptical workouts for best results, whether it is weight loss or strength training.
You can access these programs directly from the console with the click of a button.
3.Intensity and Speed:
If you don't know already, without an option to increase the intensity of your workout, the elliptical or any other exercise equipment for that matter is a waste of money.
The resistance is altered in order to increase the difficulty of your workout.
You can increase the intensity as well as the speed of your workout to maximize the results.
4.Heart Rate Monitoring:
Heart rate monitoring is one way to check whether you're putting maximum effort into the workout or not.
There are some heart rate zones where you'll burn more calories than normal.
Usually, the elliptical machines come with built-in heart rate sensors on the handlebars.
Some advanced machines also come with the support of chest straps for more efficient tracking.
5.Durability:
The durability of an elliptical cross trainer depends on the brand and the price you put in.
Generally, the popular brands offer better built quality (sturdier frames, better consoles, larger workout areas, smoother operation) when compared with cheaper brands.
6.Additional Safety Features:
Most elliptical trainers come with easy to stop clips that can be attached to our clothes while working out on the machine.
7.Price and Warranty:
This varies from one machine to another and one brand to other. The more features an elliptical trainer has, the more pricier it will be.
Normally, the prices of an elliptical cross trainer in India starts from Rs.8000 and goes up to Rs.1 lakh.
You'll also get a minimum of 1 year warranty from the manufacturer.
Treadmill vs Elliptical Trainer vs Stationary Bike
A lot of people are still confused over which fitness equipment suits their requirement or personal needs.
And, in this guide, let us look at the differences between a treadmill, elliptical cross trainer and an exercise bike.
1.Treadmills: You have both manual and automated treadmills in the market. You can choose any model depending on your budget. The more features it has, the more pricier it is.
2.Exercise Bikes: Best way to simulate outdoor cycling at the comfort of your home or gym.
3.Elliptical Cross Trainers: A mix of treadmill, stairmaster and cycling. Offers unique combination of fitness benefits without putting pressure on your knees, back, hips or joints.
Elliptical Trainer FAQs
1.Which is the best cross trainer for home use in India?
The Welcare WC6020 Elliptical Trainer is currently the best cross trainer for home users.
2.Is Cross trainer good for weight loss?
Yes, an elliptical cross trainer allows you to exercise multiple levels of your body including upper as well as lower body parts. So, it is definitely the best exercise machine for weight loss.
3.Is cross trainer better than walking?
Both walking and working out on elliptical have their own pros and cons. But, when it comes to calorie burn, the cross trainer always has an upper hand.
4.Is cross trainer bad for knees?
The cross trainer workouts are considered low-activity exercises and hence it won't cause any strain on your legs as long as you use the elliptical properly.
5.What is the difference between elliptical and cross trainer?
While an elliptical comes with stationary handles to workout your lower body, the cross trainer comes with moveable handles that help with upper body workouts as well.
6.Does an elliptical cross trainer tone arms?
Yes, a good branded elliptical trainer will help tone both your upper body (biceps, triceps, abs, pectorals) as well as the lower body muscles (legs, thighs and buttocks). They are the best choice to get a full body workout at home.
7.How can I build muscle with the cross trainer?
You'll need to increase the resistance to the maximum possible level and try to get min 30 minute HIIT elliptical workout every alternative day and you'll surely build muscles.
8.How many calories can you bur in 30 minutes of elliptical workout?
According to Harvard health publishing, you can burn anywhere from 300 to 350 calories using an elliptical trainer for 30 minutes.
How to Use an Elliptical Cross Trainer Correctly?
Conclusion:
These are the main basic features you should consider before purchasing the best elliptical cross trainer in India for home use.
Pick the one that suits your budget and fitness goals. Don't compromise for 1k or 2k as it saves you a lot in the long term in terms of maintenance.