Do you have a knack for sewing and want to express your creativity through beautiful designs on fabrics? It all begins with choosing the right sewing machine.
And, when it comes to best budget sewing machine in India, the Singer Start 1306 Sewing Machine is definitely a great choice. It combines stylish look and good performance that will guide you from being a novice to a professional.
With preset stitch applications and automated functions, the sewing machine is suitable for users at all levels. It is smartly designed and highly compact which can be easily carried or stored anywhere.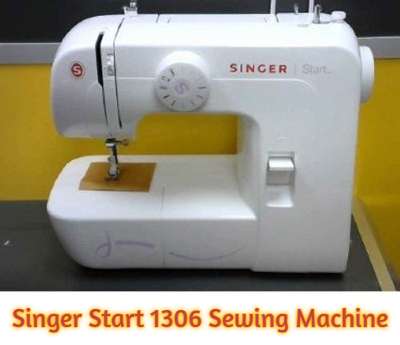 Using this sewing machine can be extremely fun as you will learn new things every day. It is reliable, sturdy and highly affordable that makes it worth every penny you spend.
Now before you buy it, let's learn more about this product in this comprehensive review of the Singer Start 1306 sewing machine.
Singer Start 1306 Sewing Machine Features
1. Stitch Functions
The automatic sewing machine is most suitable for beginners and hobbyists, offering 57 stitch applications that allow you to test your creativity and work on a variety of projects.
At an affordable price point, it is really impressive to have 57 built-in stitch applications and that too in a lightweight and petite body.
Additionally, it has 6 pre-built stitch functions – straight, scallop, blind hem, zigzag, satin, and a 4-step buttonhole. This will help increase your creative possibilities.
2. Pre-built Stitch Length and Width
Manually adjusting the length and width every time you stitch can consume a lot of your time, especially when you are just starting off.
Delightfully, the Singer Start 1306 comes with preset stitch length and width function that automatically does everything. This save much of your time and also helps achieve more precision.
3. Sturdy & Durable Metal Frame
Singer is one of the market leaders in manufacturing high-quality sewing machines. That is why the Singer Start 1306 is built with highly robust and durable inner metal frame.
This delivers an improved skip-free sewing experience, especially when you are stitching heavier fabrics. Metal body also adds more durability to the machine.
It has a plastic outer body which is quite good and not flimsy.
4. Simple Four-Step Buttonhole
To help you make the perfect buttonhole, the machine comes with an easy 4-step buttonhole function. The instructions are displayed clearly on the machine's Stitch Selector Dial.
This will take you just a few seconds to sew a buttonhole with utmost precision.
5. Stitch Selection Dial
The 6 built-in stitches are clearly displayed on the Stitch Selector Dial. To select the right stitch you want to work upon, you have to simply turn the dial and access the right function.
6. Getting Started with the Sewing Machine is Faster
The machine features three presser feet that make it simpler to work on various types of sewing projects.
The all-purpose foot can be used for a majority of sewing projects, while the zipper foot is designing to help add piping, zippers, cording, etc. The buttonhole foot is suitable for making buttonholes and slots for ribbons.
The presser foot features intelligently-designed extra high position that is suitable when you are working on thicker fabrics.
7. Fast and Simple Threading
Threading is not automated in this machine like other models in this price range. But easy threading diagrams are clearly printed on the machine.
This will help you thread the entire machine, though you may find it little complex initially.
8. Twin Needle Sewing
The Singer Start 1306 automatic sewing machine has dual spool pins that let you stitch two parallel rows simultaneously. This is suitable to add a decorative touch yo your design or for hemming.
9. Free Arm Convertible
When it comes to stitching around circular areas, you would need a free arm that allows you to work in difficult-to-access areas like pant hems, collars, cuffs, etc.
10. High Power Motor
The sewing machine comes with a 72 watt motor that is powerful enough to perform 750 stitches per minute.
And that is really impressive for a machine available at an affordable price.
11. Darning Plate
The darning plate is positioned over the sewing machine's feed teeth which prevents the latter from getting in contact with the fabric.
It aids in free motion sewing that is ideal for monograms, stipple quilting, or sewing on buttons.
12. Lightweight and Portable
The sewing machine weighs 4.3 kg. Despite its rugged built, it is extremely lightweight and can be carried easily anywhere you want.
13. Additional Features
The Singer Start 1306 is a well-rounded sewing machine that comes with an array of additional features to make your overall experience more impressive.
It features a modern and classy design, and ensures high-end safety to work upon. The motor is high-power but extremely quiet and is suitable for working even at night.
The automatic bobbin winder is the perfect accessory for beginners. Additionally, it has a built-in LED that makes it convenient to sew even in low light.
The built-in thread cutter is also a useful tool while the panel selector efficiently runs to help you choose and make your dream design.
The sewing machine is also energy efficient and can help you save money even if you work on it daily.
14. Easy to Maintain
Another interesting feature of this machine is its easy maintenance. The inner body is built sturdy and durable, which means you do not need regular maintenance or repairs.
In case you need, here is a detailed Sewing Machine care and maintenance checklist.
15. Warranty
The product comes with two years of limited warranty. This is available on all manufacturing defects.
16. Price
The Singer sewing machine is loaded with advanced features and good performance at an extremely affordable price.
The Singer Start 1306 sewing machine costs below Rs.10000 on Amazon.
For beginners and hobbyists, this is a great product of choice because it has all important features to get started quickly and craft beautiful designs. Furthermore, it is highly affordable too.
Conclusion
Hopefully the above Singer Start 1306 sewing machine review will help you make a smart buying decision.
Overall, the product is excellent at a budget-friendly price and is most suitable to get started with your creativity in sewing.