Whether you're a beginner, hobbyist, tailor or a professional fashion designer, having the best sewing machine for home in India will make a great difference.
However, that doesn't mean that you need to strain your feet and legs by manually pedaling the traditional stitching machine.
Thanks to modern technologies, the best sewing machine brands in India like USHA, Singer, Brother etc.. have started manufacturing the electronic sewing machines with in-built stitch patterns, multiple foot pressers, length adjustments and many more amazing features to make your task simpler.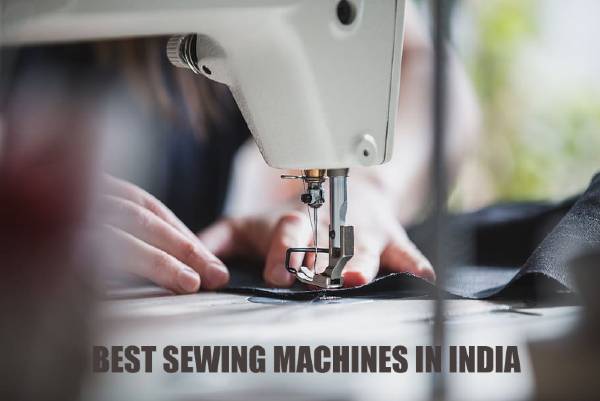 These automatic sewing machines can save you a lot of your time.
Say for example, if it takes 3 hours for a manual sewing machine to stitch a particular dress, the same can be stitched in just 30 minutes using the automatic electric sewing machine.
Other benefits of sewing machine at home include –
Do minor stitching works by yourself and save money as well as time.
Learn to do embroidery works by watching YouTube tutorials so that you can earn money and become independent by stitching clothes for others in your locality.
Well, I know what you're thinking now! Which is the best sewing machine in India to invest my money? Right?
Don't worry! We have got you covered.
We have written a detailed Buying Guide & FAQs section for your reference. Please read them first to have a better understanding of the electric sewing machines.
Top 10 Sewing Machines for Home Use in India
| Sewing Machine Brands | Reviews |
| --- | --- |
| 1.Usha Janome Stitch Magic | Overall The Best Sewing Machine in India |
| 2.Singer 4423 Electric | Best Heavy Duty Sewing Machine |
| 3.Usha Janome Wonder Stitch | Best Sewing Machine under 15000 |
| 4.Usha Janome Allure Automatic | Best Zig-Zag Sewing Machine |
| 5.Usha Janome Dream Stitch Automatic | Best Electric Sewing Machine under 10000 |
Best Sewing Machines in India (for Beginners/Professionals)
1. Usha Janome Stitch Magic Sewing Machine
After our detailed review, we found that the Janome Automatic Stitch Magic to be the best electric sewing machine under 20000 at the moment.
Usha Internationals Ltd., is a very popular brand known to all the households in India. They have been committed to manufacture products with highest quality possible.
Even their customer support is very good. You'll get the same benefits whether you purchase their stitching machine online or offline.
2. Singer 4423 Heavy Duty Electric Sewing Machine
Singer is another popular brand know for their good quality sewing machines with advanced features.
Singer India Limited is a ISO 9001:2008 certified company that is also into developing many home appliances with world-class quality.
The Singer 4423 sewing machine comes with a speed of 1100 stitches per minute, which is considered excellent and hence is rated one among the best premium sewing machines in India.
It has around 23 built-in stitches with 1 step buttonhole.
You get all the necessary sewing accessories for free along with the machine.
3. Usha Janome Wonder Stitch Zig-Zag Sewing Machine
The Janome Wonder Stitch from USHA is one of best sewing machines under 15000 budget price range that comes with a speed of 860 spm (stitches per minute). You can also do embroidery works using this machine.
It is not only lightweight but also comes with a handle to carry it around with ease.
The machine comes with a manual that helps you understand the functioning of the stitching machine better.
You can always call the USHA customer care support in case of any issue with your machine.[18001033111]
4. Singer Talent 3321 Sewing Machine
The Talent 3321 sewing machine is designed keeping the professional tailors or fashion designers in mind, which is why they have taken utmost care to embed many useful features in this machine.
The servicing of Singer sewing machines will be done at their offline stores and both the online/offline users will avail the same benefits.
5. USHA Janome Allure Zig-Zag Electric Sewing Machine
The Allure is a budget variant of the Wonder Stitch Magic model, which comes with almost similar features but at an affordable price.
It is lightweight and has got a carrying handle to easily move it around whenever required.
The electric sewing machine comes with a sewing speed of 550 spm (stitches per min) and features a 13 different stitch functions.
The sewing light comes handy in low light conditions.
You'll get the manual along with the purchase of the stitch machine that helps you undestand the functioning of the device.
6. Singer Tradition FM 2250 Sewing Machine
The Tradition FM 2250 from Singer is another budget sewing machine with different built-in functions and advanced features.
It is a very good option especially if you're new to sewing and wanted to learn different sewing techniques on a budget.
It consumes less power and also comes with power saving mechanism.
There is an LED light for use in low light areas. The user guide helps you learn more about using the electric tailoring machine properly.
On the purchase of the device, you'll get a free home demo for which you'll need to contact the Singer India customer care number after receiving the product at home.
You can either call them @ 1800 103 3474 or simply SMS your details @ 9555 390390.
The Singer 8280 is another great sewing machine from the top brand that comes with amazing features.
8. Singer Promise 1408 Sewing Machine
This is one of the best sewing machines for home use in India.
It comes with a sewing speed of 1800 spm which very fast. There is also a carrying handle for easy transfer of the machine.
There is a storage drawer to keep all the accessories handy underneath the machine.
Accessories include – all purpose foot, zipper foot, button sewing foot, pack of needles, bobbins, button hole foot, seam ripper, lint brush, L- screwdriver and soft sided dust cover.
The power consumption is 80w and it comes with power saving mechanism.
9. USHA Janome Dream Stitch Sewing Machine
This particular stitching machine from USHA is another most affordable sewing machine in India under 10000, perfect for beginners and hobbyists.
This automatic zig-zag machine is compact in size and can easily be carried or fitted into your cupboard or closet.
The Janome Dream Stitch is a free arm model, which means you can stitch quilts and various crafts pretty easily.
There is a color coded functional plate along with two dials for pattern and stitch selection.
The device comes with a help manual along with 2 year warranty from USHA.
You can contact the customer care anytime you face an issue and they'll come to your home and fix it with no additional cost.
10. Singer Start 1306 Sewing Machine
The Singer Start 1306 is a beautiful and compact tailoring machine that most people can afford.
It is perfect for sewing enthusiasts who're starting with their own tailoring works at home within a limited budget.
The machine comes with high pressure foot lifter that supports stitching of bulky fabrics or multiple layers easily. Additionally, you can also use it for quilting and embroidery works.
There is an LED light that helps you sew even in dim lighting conditions.
You can also find threading diagrams on the machine so that you can setup the thread in very less time.
The sewing device comes with a speed of 750 spm (stitches per minute).
You can always contact the customer service in case of any issue and get it fixed for free of charge during the warranty period.
11. Usha International Prime Sewing Machine
This is one of the best sewing machines for beginners with extremely tight budget.
However, the features you get are very decent for its price range.
So, if you're a beginner who wanted to experiment with the machine without worrying too much about the device getting spoiled, then this is just for you.
This automatic Zig zag machine comes with 6 built in stitches, reverse stitch, and many more features for easier stitching of dresses.
This USHA electric sewing machine comes with a free Demo from USHA. Just give them a call after you've received the product.
How to Choose the Best Sewing Machine in India?
Which sewing machine should you buy? is obviously the most common question that is bugging your mind right now, isn't it?
Well, here are some guidelines or checklist you might want to consider before purchasing your first stitching machine.
1.What Type of Sewing Machine to Buy?
There are 4 different types of sewing machines – Mechanical, Electronic, Computerized, and Over-Locker.
A. Mechanical Sewing Machine:
This is the most basic type of sewing machine for beginners and hobby stitchers. And, hence they are more economical i.e, budget friendly.
They usually are powered by a wheel which needs to be run manually.
They are much more durable and lasts longer than the modern machines.
Drawbacks:
They don't have built-in stitches or automatic stitching features like the electronic or computerized machines.
And stitching takes a very long time as it has to be pedaled manually.
B. Electronic Sewing Machine:
Unlike the vintage or traditional sewing machines, these come with more advanced features like automatic pedling, built-in stitching patterns like smocking, blind stitch, hemming, quilting, embroidery, auto-tripping, zig zag etc…
Some high end machines also come with automatic thread cutter, auto tension settings etc…
They make use of a motorized wheel and hence easy to operate without knee issues.
Drawbacks:
Not for beginners. You need to have some basic idea about stitching and those functions before operating these machines.
A bit costlier than the mechanical machines.
C. Computerized Sewing Machine:
These come equipped with the latest high-end sewing technology and more customizable options to match the tailoring needs and requirements.
These machines come with LED/LCD touch screen displays and remembers your settings for future works.
They can also be programmed to sew complex embroidery works or even to create new patterns of your own.
The computerized stitching machines come with the support of USB and hence you can take the designs using your pen drive.
These are mainly useful for small textile industries where the requirement for stitching materials is medium to high.
Drawbacks:
Very expensive
Simple technical issues can mess up the whole embroidery work
Only suitable for highly skilled tailors with lots of work
D. Over-Locker Sewing Machine:
These machines are also known as Sergers and mainly used for professional hemming, seams and making garments.
You can hem curtains, dresses, bed sheets etc…
They come with fewer stitching functions but can sew extremely fast.
To give you an idea, these stitching machines use upto 4 to 5 threads and multiple needles to make garments faster whereas a tailor can use only 2 to 3 threads at a time.
| | | | | |
| --- | --- | --- | --- | --- |
| Feature | Mechanical | Electronic | Computerized | Over lock |
| Built-in Patterns | 1-7 | 7-50 | 50-200 | >20 |
| Home Use? | Yes | Yes | No | Yes |
| USB Support? | No | Yes | Yes | No |
| For Beginners? | Yes | Yes | No | Yes |
| Automatic? | No | Yes | Yes | Yes |
| LCD Display? | No | Yes | Yes | No |
| Motorized? | Yes/No | Yes | Yes | Yes |
| Price | Low | Moderate | High | Low |
2.How Many Stitching Patterns You'll Need?
Generally, straight stitch and zigzag stitch are two patterns used by most users.
But, if you want to be a little creative, you can use the below patterns too –
Chain stitch
Cross stitch
Back stitch
Basting stitch
Running stitch
Blind hem stitch
Button hole stitch etc…
3.Can You Adjust the Stitch Length?
You can do it on the electrical sewing machines. By adjusting the length and width, you can easily create different embroidery patterns.
While the short lengths are ideal for tight and small stitches, the longer lengths help in doing different embroidery works.
4.Do Sewing Machines Come with Extra Attachments?
In addition to the motorized sewing machine, you'll also get some free basic attachments aka accessories such as:
Automatic Needle Threader
Needle Down
Automatic Thread Cutter
Automatic Button Holder
Adjustable Presser Foot
Needle Position Adjustment
Adjustable Speed Control
Knee Lifter
Top Load Bobbin
Bobbin Thread Lift et….
5.How Big is the Sewing Machine Motor?
The bigger the motor, the heavier the sewing machine will be. However, don't mistake big motor to be a demerit.
It actually is a blessing as stronger/heavier motors tend to last more when compared with lightweight ones.
In fact, they're good for heavy usage works and also stitching thicker fabrics like jeans (denims), leather etc…
So, always go for a sewing machine that is made of metal parts rather than the one made with plastic material. Only go for lightweight ones if you want to frequently carry it with you.
6.How Much Noise Does the Motor Make?
Most of the automatic sewing machines from top brands like USHA and Singer usually make less noise when compared with the non-branded devices. So, always go for good brands.
7.What is the Best Price to Pay for a Sewing Machine?
Well, it entirely depends on person to person. If you're a beginner who is just starting to learn the basics of sewing and looking for doing simple stitching tasks, then you can simply go for the budget-friendly models.
If you have moderate user with occasional embroidery work for which you don't want to waste money on tailors, then you can spend more.
Whether you wanted more advanced features like zig zag, embroidery, multiple stitch functions or you have enough budget at hand, then I highly recommend you to spend minimum 15 to 20k and get the top sewing machine as it will help you in many ways and is also a one time investment for many years to come.
And, coming to the warranty on the sewing machines, all the top brands are offering a minimum of 2 years warranty on the product with at home free servicing.
Sewing Machine FAQs
Which sewing machine is best suitable for home use?
Well, it depends on your requirements and efficiency level. If you're a beginner, those sewing machines with basic functionalities would just suffice. But, if you're professional or fashion designer, then you'll need advanced sewing machines with multiple stitch functionalities.
For clear idea, read our buyer's guide.
Professionals – Who stitch clothes for others for money. Ex: Tailors, Fashion Designers, Embroidery
Home use – Who know stitching but only do it for themselves or their closed ones.
Beginners – Who doesn't know the basics of stitching and are just starting to learn.
Which is the best sewing machine brand in India?
The top 3 most popular sewing machine brands include:
– Usha Sewing Machines
– Singer Sewing Machines
– Brother Sewing Machines
What accessories are provided with a sewing machine?
Most brands include basic accessories for free along with your purchase of the automatic tailoring machine – cleaning brush, screwdriver, eyelet punch, protective case, bobbins, blind stitch foot, wide table, monogramming foot, power cord and others.
Are the Sewing Machine Heavy in Size?
Well, the more features it has, the heavier it becomes.
Usually, most electric sewing machines come in the weight ranges between 7 to 15 kgs, depending on the brand, features, accessories etc…
If you don't have a wide variety of uses with your stitching machine, it is always suggested to select the lightest one as it is easier to transport it to different places in your home or outside.
What are the major benefits of using a sewing machine?
There are many advantages of using an electric or motor powered sewing machine, which include:
– Saves time and money
– Reduces human effort of peddling manually
– Reduces stress on your back and feet
– Offers plethora of stitching functionalities
– Easy to operate and maintain.
Does a motorized sewing machine consume lot of electricity?
Not much when compared with your regular household products. They consume around 40 to 70 watts, which is very minimal.
How Much Noise Does a Sewing Machine Make?
Mechanical sewing machines or Computerized machines generally make a lot of sound. But, the electronic machines make lesser sounds when compared with the earlier ones.
How often should the sewing machine be cleaned/serviced?
It depends on how frequently you use the machine or what type of fabrics you stitch using the machine.
Generally, cotton fabrics and threads can build up lint inside the machine and hence servicing it once every 3-6 months helps in smooth functioning of the machine.
And, if you don't use the machine much, then also it needs to be serviced every 6 months as lubricants can be dried up.
Here is a detailed Sewing Machine Maintenance Guide.
Can a regular sewing machine be used for quilting?
You can use your sewing machine for quilting if it comes with free-motion foot or circular stitching feature.
In case If your sewing machine doesn't have that feature, you can still do quilting by purchasing a separate generic darning foot.
Why does my sewing machine skips the stitches sometimes?
If your machine is randomly skipping the stitches, then it is high time you change the needle. Sometimes, it can be because of a bent needle.
A few other reasons are:
– Tugging too hard on the fabric
– Mismatched needle and thread
– Needle hitting a pin etc….
In such cases, get your sewing machine serviced from an authorized technician.
Conclusion:
Hope this list of the Top 10 Best Sewing Machines for Home Use in India comes handy in choosing the right stitching machine for your needs, let it be for home use, beginners or professionals. My personal favorite is the USHA Janome Automatic Stitch Magic (using it since 2 years).