More than luxury, a car air purifier has become a necessity since the roads and highways we're traveling have much higher levels of air pollution than our home.
The things get even worse when you take your pet in the car or smoke while in the car.
According to a report, it is estimated that an Indian spends nearly 24 hours per week on an average inside the car and the pollution levels can be 5 times worse than the outside conditions?
Putting an end to the increasing air pollution isn't very easy as it requires a lot of support from both the people and the government. However, we can protect ourselves by using the best car air purifier in India.
Top 10 Air Purifiers for Car in India
| Car Air Purifier Brands | Filters | CADR | Weight | Warranty |
| --- | --- | --- | --- | --- |
| 1.SHARP Cabin HEPA Air Purifier for Car | 3 | 38 m3/h | 2.42 Kg | 1 Year |
| 2.Sharp IG-GC2E-B Air Purifier for Car | 2 | 3.6 m3/h | 263 gms | 1 Year |
| 3.GoMechanic Carbob C4 Air Purifier | 3 | 12 m3/h | 600 gms | 1 Year |
| 4.Nebelr Car Air Purifier Ionizer | 1 | 10 m3/hr | 581 gms | 1 Year |
| 5.PranaVital Smart HEPA Air Purifier | 4 | 12 m3/hr | 499 gms | 1 Year |
| 6.Vantro Smart Car Air Purifier with HEPA | 3 | 10 m3/h | 350 gms | 1 Year |
| 7.AirSpa Car Air Purifier with HEPA & Ionizer | 3 | 7 m3/h | 250 gms | 1 Year |
| 8.MANN Filter FC 301 Car Air Purifier | 3 | 25.5 m3/h | 998 gms | 1 Year |
| 9.Eureka Forbes Aeroguard Car Air Purifier | 5 | 25 m3/h | 360 gms | 1 Year |
| 10.Litake Plug-in Type Ionizer | 1 | - | 250 gms | 1 Year |
What is a Car Air Purifier?
It is a compact/portable device with HEPA and activated carbon filter that helps in removing the dust particles, harmful gases (cigarette smoke, car fumes etc…) and even pet dander inside your car.
It is smaller in size and can be plugged into your car's lighter slot for powering up.
Before finding the best car air purifiers in India, it is highly suggested to know some basics about the different options that you should choose from while picking an air purifier for your car.
Different Types of Filters in a Car Air Purifier
HEPA Filter:High Efficiency Particulate Air Filter (HEPA) helps in removing 99.97% of the airborne particulates as small as 0.3 µm. It can filter dust and dirt effectively but can't filter gases and odor.
Activated Carbon Filter: You need an activated carbon filter to remove those harmful gases, chemicals and odor from the air in your car.
Ozone Generator: It emits ozone gas to remove harmful gases in the air. But, it is highly recommended not to purchase an air purifier with ozone generator as it itself is quite harmful for health.
Negative Ion Generator: The generator produces negative ions which attach to the dust particles, mold and pollen in the air and make them fall to the ground due to overweight.
Air Freshener: There are selected air purifiers with built-in air freshener that helps mask the odor in the car. But, don't purchase individual air fresheners thinking that they would remove gases or dusts in the air. You need a car air purifier to do so.
Best Car Air Purifiers in India
These air purifiers come with advanced HEPA technology to remove harmful toxins and particles from the air and provide you with fresh and clean air.
1. SHARP FP-JC2M-B Cabin HEPA Air Purifier
If you travel frequently and are looking for a premium air purifier for your car, then the Sharp HEPA air purifier is just for you.
It comes with integrated air quality sensors that automatically measure the air quality inside the car and will turn on the air purification mechanism.
There is an indicator that alerts when the filter needs to be replaced with a new one.
The two charging ports allow you to connect your Smart devices without compromising on your charging dock functionality.
The Sharp air purifier comes with a mounting strap that can be easily attached to the seat's neck.
It is suitable for cars, RVs, Vans and SUVs.
Features:
HEPA Filter
Active Carbon Filter
100% Ozone free
CADR: 38 Cu m/hr
Less noise (<50 dB)
2 Charging ports
Auto mode
Easily mounted on the seat's neck
Filter replacement indicator
12 months warranty
1.1 Kg (weight)
Suitable for small cars to large SUVs
2. Sharp IG-GC2E-B Plasmacluster Air Purifier for Car
Sharp is a premium brand that already has a lineup of high-end air purifiers for home use.
This is the best car air purifier under Rs.10000 with Plasmacluster technology that is suitable for both cars and small rooms, which is unique.
It comes with a 2-port USB car adapter that allows you to charge your Smartphone simultaneously.
You can also use inside your room (25 sq.ft) by plugging it into your PC or USB charger.
The device make very less noise and is comfortable to use without any tough settings.
Features:
Comes in a vertical cylinder shape
Ionizer with Plasmacluster technology
CADR: 3.6 Cu. M. (127 Cu. Ft.)
Coverage Area: 25 sq.ft (also be used inside the room)
Air Flow Level: 22 CMH
Washable PM 10 filter
2-port USB car adapter
Power Consumption: 1.8 W
Weight: 263 gms
3. Honeywell Move Pure2 Car Air Purifier
Honeywell, a Fortune 100 company, is one of the best brands when it comes to home appliances and they're doing excellent with their lineup of air purifiers too.
The Move Pure 2 comes with high-grade HEPA filter that is efficient enough to remove PM 2.5 particles, dust and other pollutants inside your car.
It also has advanced double layered active carbon filter protection that helps remove VOCs, cigarette smoke, formaldehyde, bacteria, gases, odor etc…
Another good thing about this premium air purifier for car is that it is 100% ozone free and hence safe for the environment.
The display shows the real-time air quality inside your car.
Features:
HEPA & Double Layer Activate Carbon Filter
CADR: 15 cu.M/hr
Filter Life: 360 hours
Fan Speed: 2 modes
Filter replacement alarm
Noise Levels (<=52 dB)
Touchscreen button
Ozone free
Weight: 921 gms
1 year warranty
Can be attached on the dashboard using the provided Velcro fasteners
4. Philips GoPure Compact 100 Airmax Car Air Purifier
This compact air purifier comes with 3-stage air filtration process and can eliminate up to 99% of the air pollution inside your car.
It's unique GoPure technology (HEPA+HESA filters) removes PM2.5, toxic gases and offers 3x better removal of nicotine (smoke residue) compared to the ionizers.
It just takes 13 minutes to completely purify the air in your car and comes with automatic on/off switch that works with ignition.
It is very easy to install and comes with long cable and mounting accessories.
You can either place it on the dashboard or mount it behind the seat neck using the attachment strip.
Features:
3-stage air filtration process
Prefilter, HEPA filter and HESA filter
Removes PM2.5 ultra fine particles, toxic gases and TVOC
CADR: 14m3/hour
Automatic Switch on/off
2 fan speed modes
Filter replacement indicator
Filter lifetime up to 350 hours
Easy to install
Power efficient
DOT compliant
748 gms (weight)
1 year warranty
5. GoMechanic Carbon C4 Car Air Purifier
This portable HEPA air purifier for car comes with dual layer HEPA active carbon filter that removes PM2.5, dust and harmful pollutants.
It uses the advanced carbon filter to remove cigarette smoke, formaldehyde, viruses, toxic gases, bacteria and odor.
It is 100% ozone free and does not omit any ions. The purifier is power efficient and produces very less noise.
Features:
High Grade HEPA Filter
Advanced Double Layer Active Carbon Filter
100% Ozone free
Tumbler design
CADR: 12 Cu m/hr
Less noise (<49 dB)
Power Efficient (12 V DC)
2 Fan speed modes
Easily mounted on the dashboard
Automatically starts with previous settings once the car gets started
Filter replacement reminder
1 Year warranty
0.6 Kg (weight)
Suitable for small cars to SUVs
6. Nebelr Car Air Purifier Ionizer
The Nebelr is a negative ion air purifier for car that comes in the shape of a vertical cylinder.
It purifies the air by releasing negative ions into the air, which are combined with positive ions and then bring them to the ground.
This car ionizer helps eliminate bacteria, germs and viruses with up to 99% efficiency.
It even removes bad smell, smoke, dust and PM 2.5 particles from the air and provides clean air to breathe inside your car.
You can use it either on your desk, car or small room.
Features:
Ionic air purifier for car
CADR: 10m³/h
Removes PM 2.5 particles
Eliminates smoke, dust and smell effectively
360 degree air purification
Noise Levels: <30 dB
2-port USB charger
Weight: 581 gms
No Details about warranty
7. PranaVital Smart Car Air Purifier with HEPA Filter
PranaVital Smart is one of the most popular HEPA air purifiers for car in India with 12 m3/hour CADR (clean air delivery rate).
It includes Pre-filter, HEPA filter, Activated Carbon & Anion and can reduce 99.9% of allergens, pollen, odors, pet dancer, dust, and TVOC.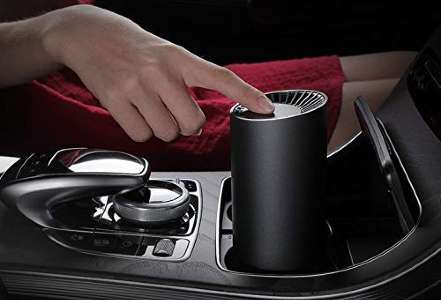 It is ideal for kids, pregnant women and people with asthma, nasal congestion, allergies etc…
It comes with a 3-color air quality indicator and digitally displays the temperate and humidity inside the car so that you can know how/whether the air purifier works.
This car air purifier covers up to 80 sq feet so that you can use it not only in your cars but also at your desktops, kitchens and pet rooms.
Thanks to the compact size, it fits perfectly in your cup holder.
The filter needs to be changed once every 2 to 3 months, depending on your usage level.
Features:
Compact size; Fits in the cup holder of the car
CADR: 12 m3/h
Air Quality Indicator
Digital Display of Temperature & Humidity
Gesture Induction Control Feature (wave hand to power on/off & change modes)
Covers up to 80 sq.ft
Less Noise (<29dB)
Removes PM 2.5 particles
Removes formaldehyde & TVOC
Weighs 499g
8. Vantro Smart Car Air Purifier with HEPA & Ionizer
Though relatively lesser known brand, the Vantro HEPA air purifier has garnered only positive ratings till now.
It uses both HEPA filter technology and Ionizer to remove harmful bacteria an PM2.5 particles from the air.
Thanks to the cylindrical design, it purifies the air in 360 degrees and kills 99% of viruses.
This purifier comes with a digital touch button, LED display and is ideal for those with allergies, asthma, cough and sneezing issues.
Features:
360 degree air purification
HEPA Filter, Activated Carbon and Primary Cotton
CADR: 10m³/h
Built-in Anion Generator
7 colorful LED lights
Single USB charging port
Starts with car engine power on
Fits in the cup holder
1 year warranty
9. AirSpa Car Air Purifier with HEPA & Ionizer
AirSpa is another compact HEPA air purifier with 360 degree high efficient filtration technology.
It removes formaldehyde, PM2.5 ultra-fine particles and Benzene.
The CADR is 7 m3/hr and can be operated on a very less power (DC). It uses the ionizer technology to neutralize the harmful ions present in the atmosphere.
Features:
360 degree air filtration
HEPA advanced technology
Active loader waylay filter
CADR: 7 m3/hr
Removes PM2.5, formaldehyde
DC10 to 15 w power consumption
250 gms (weight)
Compact design
1 year warranty
You can also go for
ZMT Car Air Purifier
that comes with similar design and specifications but for a lesser price.
10. MANN Filter FC 301 Car Air Purifier
The FC301 purifier provides 4x faster CADR within 2 minutes using the HEVA technology.
It protects against PM2.5, harmful gases, micro organisms and removes cigarette smoke and odors.
It also comes with an integrated air quality sensor and a USB port for charging your electronic devices on the go.
It has a CADR of 25.5 m3/h and consumes very less power (5w).
Features:
Advanced air filtration using HEPA and activated carbon
Air quality indicators
4x faster CADR vs other car purifiers
CADR of 25.5 m3/h
99% removal of PM2.5 using HEVA filter technology
Silent mode (<40 dB)
USB port for charging (can be used as a mobile power bank)
998 g (weight)
1 Year warranty
11. Eureka Forbes Aeroguard Car Air Purifier
This is an advanced air purifier with 5 stage purification technology and is suitable for people suffering with allergies.
It helps remove pollen, smoke, dust, mold, pet dander and bad odors very effectively along with PM 2.5 particles with up to 99% efficiency.
It is easy to install and can be placed anywhere in the car and it can cover an area up to 107.6 sq.ft.
The purifier removes bad odor and smell inside the car with just a single button click.
The operation is silent and is extremely safe to use even in summer climates.
Features:
5 Stage Air Purification Technology
For Most Polluted Cities & Cigarette smokers
Ideal for People suffering from allergies
2 speed air flow control
Power on/off button
Weight: 360 gms
Can be placed on the dashboard
Easy to install & use
12. Litake Plug-in Type Ionic Car Air Purifier
This is a plug-in type air purifier for car with Ionizer in India.
You don't have to dedicate a separate place for the purifier as you can directly insert the device into the cigarette lighter slot and use it.
It also comes with 2 USB ports to charge your Smartphones simultaneously.
The purifier looks stylish and is suitable for those with less air pollution in their cities or inside their car.
It is just a basic car Ionizer that removes the large particles and eliminates odor.
Don't prefer this if you want to remove PM 2.5 particles inside the car as it just does the basic cleaning.
Features:
Ionizer (not recommended if you're a very frequent car traveler)
Dual USB charging ports
Plug-in type air purifier
Ideal for basic air cleaning and odor removal
Easy to install & use
1 year warranty
Benefits of Using an Air Purifier inside the Car
Below are a few major benefits of using a car air purifier.
Keeps the car safe and clean by eliminating all the pollutants inside the car.
Removes bad odors or nasty smell by neutralizing the odor molecules inside the car.
Fights off allergens, germs and pollutants insides the car that may cause respiratory issues like pneumonia and bronchitis.
Since they remove all the dust from the air along with eliminating odor and other harmful microorganisms inside the car, you'll be able to breath fresh and pollution-free air.
Car Air Purifier Maintenance Tips
Like with any other appliance, the car air filters also require some maintenance, though not at high level.
In order to avoid clogging due to dust or dirt, you'll need to clean the filters at regular intervals.
Most filters can be cleaned using just plain water. However, if the filter is non-washable as mentioned by the company, you'll need to use a vacuum cleaner to clean the dust or dirt.
On an average, a filter lasts for up to 3 to 6 months before it should be replaced with a new one. You can read the product manual for the time frame.
If you're using an Ionizer (purifier with Ionic chargers), then you don't have to worry about cleaning as they don't have filters in-built.
There are also some air purifiers for car that come with a metal plate installed to catch the dust particles. In such cases, you can simply clean those plates and use them normally.
Car Air Purifier – FAQs
Which is the best air purifier for car in India?
Honeywell Move Pure and Philips GoPure are two best-rated air purifiers for car in India. These two products have the best cleaning efficiency and are said to be made of high quality material.
Do car air purifiers really work?
Air Purifiers for car do work! Once installed, they'll remove all the minuscule pollutants from your car. But, since you cannot see those particles, you might be skeptical about its functioning. Just try and see the difference for yourself.
Can I install the air purifier in my car by myself?
Of course, yes! You don't have to be a professional as the installation of the air purifier inside the car is pretty straightforward.
Just plug the USB adapter in ot the cigarette lighter socket in your car and you're good to go.
Does air purifier remove cigarette smell inside the car?
Yes, air purifiers with ionizer or HESA filter will be able to remove the smoke or cigarette smell considerably.
Why do i need an air purifier when I already have cabin air filter in my car?
Cabin filters definitely help in cleaning the air inside the car, but they're not very efficient in removing the harmful pollutants like PM 2.5, several bacteria and viruses.
How frequently should I change the filters of an air purifier?
It entirely depends on the air purifier brand you're using and the duration.
On an average, a filter lasts for a minimum of 3 months to max of 2 years.
You can search for the filter's estimated lifetime on the company website.
Is it Ok to open the car windows while using the car air purifier?
Air purifiers are designed to function well when kept in close space.
When you keep the windows open, new pollutants enter inside the car, thus making it difficult for the purifier to function at its best.
So, it is advisable to close the car windows, atleast while using the purifier.
Are ionizers safe to use in the car?
Most ionizers are safe to be used. Most people get confused with Ozone filters when they hear about Ionizers.
Ionizers just produce negatively charged particles (anions) and are not harmful.
Can I wash the filters of a car air purifier by myself?
Most air purifiers for car come with HEPA filters, which are not washable and should be replaced from time to time.
That's the end of the best car air purifiers in India. All the listed mini car air purifiers are perfect in their own price range. So, choose the one that suits your budget.