Exercise along with a healthy diet in equal proportion is the key to a fit body.
There are different exercise equipment that are recommended for each body part like the treadmills for lower body strength, stationary cycle for legs, elliptical trainer machine for overall body workout and so on…
Likewise, the Sit Up Bench helps tone your abdomen muscles (stomach) and love handles (side fat).
If you're trying to get a 6 pack body, then it is the best workout equipment you should have in your home gym.
These stomach exercise machines doesn't require electricity and are operated manually by using your own body weight.
In this guide, we have discussed the top 10 stomach exercise machines in India.
Also, please go through our detailed
FAQs
section to have a better understanding of how to select the best ab exerciser according to your requirements.
Benefits of Using Stomach Exercise Machines
Burns Belly Fat Quickly: Since these abs workout machines directly target abdominal muscles and love handles, you'll burn your belly fat fast.
Get Perfect Body Shape: Since spine is activated while performing the ab and back workouts, your body will get perfect shape.
Reduces Lower Back Pain: Doing stomach exercises regularly will help provide balance and stability in your spine and as a result, you can avoid lower back pain issues.
Easy to Exercise: Thanks to the support handles, you can do abdominal crunches or back exercises on your own, without other's help.
List of 10 Best Sit Up Bench for Home in India
Best Exercise Equipment for Abs & Love Handles
1.Dolphy Sit Up Bench for Abs Exercises
Dolphy is one of the best home exercise equipment brands in India that makes durable abs exercise machine with high quality steel material.
This sit up bench is ideal for doing stomach or abdominal exercises and with adjustable height or incline option, you can increase the intensity of your workouts.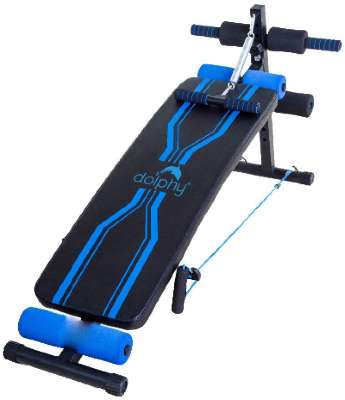 It comes with high density foam padded ankle and knee rollers that provide comfort as well as keeps the bench in place.
The abs exerciser supports body weight up to 150 kg and hence can be used for commercial as well as home use.
You can also perform stretching, push up, back sit up and leg workouts using this machine.
2.Kobo EB-1010 Steel Abdominal Exercise Sit Up Bench
Kobo is another popular fitness equipment brand that is known for making good quality machines at affordable prices.
The Kobo EB-1010 is made of durable steel material and is very lightweight too (7.7 Kgs).
You can adjust the height of the sit up bench according to your fitness goals or required intensity.
The thick cushion bench with non-slip foam padded handles help provide stability while performing the workouts.
You can do multiple exercises using this abdominal exerciser such as twists, pushups, leg workouts, abs and back sit ups.
It is also easy to fold for easy storage. The max weight it supports is 120 kgs.
3.IRIS Fitness 8 in 1 Adjustable Ab Sit Up Bench
This is a multi-function abdominal exercise machine that helps in working out your arms, abdomen, back and buttock muscles.
It is an ideal choice for home users who prefer to have more exercise options in a single machine.
The sit up bench comes with height adjustable choice depending on your exercise level.
The bench platform is padded with sponge cushion topped using Faux leather material.
It can easily be folded and stored under your bed.
The max weight it supports is 120 kgs.
You will also be getting 2 x 1.5 Kg dumbbells and resistance ropes.
4.Lifeline AB-310 Abdominal Bench
Coming from one of the best brand 'LifeLine', the AB 310 abdominal exercise bench comes with sturdy build quality.
It is suitable for stomach exercises, bench press, triceps, crunches etc…
It comes with height adjustable option so that you can get intense workouts based on your fitness goals.
The bench platform is padded with cushion and the handles are embedded with non-slip foam.
The max user weight it supports is 90 kgs.
5.Kobo EB-1009 Steel Abdominal Exercise Sit Up Bench
The EB-1009 is another excellent sit up bench from Kobo that comes with similar specifications but less weight support.
This abs exerciser is made of steel and has good cushion support too.
It weighs around 10.3 kg and can handle weights up to 120 kg.
You can adjust the bench as per your required intensity.
This machine comes with 2 resistance tubes to workout your arms and upper body as well.
The bench is easy to fold and can be hidden under your bed or behind the curtain.
6.Ozoy Six Pack Abs Exerciser
This abs workout machine from Ozoy is suitable for those who wanted to perform multiple exercises at home.
You can perform up to 22 different exercises that include both your upper and lower body.
Unlike the above machines, this is not a sit up bench and comes with bendable back support that allows you to work your abdominal muscles.
The rollers are padded with cushion and are comfortable to use.
It also has build-in resistance tubes with handles to strengthen your arms, chest and biceps.
You an perform rowing, triceps, biceps, push ups, abs stretching and even back workouts.
The max weight it supports is 100 kg.
7.HNESS Six Pack Abs Exerciser Machine
This is another abs workout machine with bendable back support (rotating system) and has comfortable foam padded handles to hold on to while performing the workouts.
It also helps you with doing push ups that can be adjusted according to your required intensity.
Thanks to the additional lower swivel, it helps you get a balanced workout at the comfort of your home without using multiple workout machines.
It also comes with rowing attachment (26 lbs weight).
The product weighs 10.3 kgs and support body weight up to 100 kgs.
8.Owme Six Pack Abs Exerciser
Built with heavy-duty material, the Owme abdominal workout machine comes with different exercise options like rowing, crunches, twists and ab stretching.
The neck, head, back and leg rollers are padded with cushion to provide comfort while working out.
There are also the resistance tubes attached to the foot of the machine for additional arm workouts.
The seat comes with 360 degree swivel function and is safe & easy to use.
The max weight it supports is up to 100 kgs.
9.Kobo AC-10 Generic Ab Care Exercise Machine
The Kobo AC-10 is one of the cheapest abs exerciser machine in India that comes with amazing build quality.
It is touted as the multi-functional abs twister trainer that also tones your entire muscles.
It is easy to fold and comes in a compact design for easy storage.
The machine helps tone your upper, lower body as well as middle abs and is suitable for both men and women.
It can hold up to 150 kgs of user weight.
10.Dolphy Sit Up Bench for Abs Exercises Home Gym
This is a foldable sit up bench from Dolphy that comes with adjustable height option.
You can perform various exercises like abdominal crunches, push ups etc…
Thanks to the cushion support, you won't feel any discomfort in your spine while performing the back workouts.
The product comes with non-slip foam handles to provide stability to the machine.
The max load it can bear is up to 150 kgs.
Different Types of Sit Up Benches for Abs Exercises
There are 3 different varieties of abs workout sit up benches, each with their own pros and cons.
Let us look at them in detail.
1.Adjustable Sit Up Bench
These are the most popular and best of all the types.
You can adjust them to be either flat, decline or incline, depending on your fitness goals or required intensity.
These abs exercisers also help you with strengthening your back, shoulders and triceps.
These are ideal for beginners to professionals with different fitness goals.
2.Foldable Sit Up Bench
These folding abs workout machines are ideal for those with less storage options.
You can easily fold them and keep them away when you're finished with your workouts.
3.Curved Sit Up Bench
These curved abs exercisers are ideal for those with back problems as it comes with curved design (hollow space) that support your back as you lie on the machine.
These are ideal for beginners and those with back issues.
Frequently Asked Questions
1.Does the Ab Exerciser Really Burns Belly Fat?
Belly or Stomach is one area among many where the excess body fat is stored. And, by performing abdominal exercises, you'll be able to tap into the fat stores in all areas, including your belly fat.
So, yes, it helps reduce your belly fat, if you workout regularly without fail.
2.Should I breathe (inhale/exhale) while doing ab workouts?
Yes, like with every exercise, you should continuously inhale and exhale in a rhythmic pattern while performing the abdominal exercises as well.
3.What exercises can I do with an abs exerciser machine?
In addition to the abs (crunches), you can also perform sit ups, push ups, biceps, triceps etc… Some sit up benches come with multiple exercise options
4.What Gym machine is best to lose love handles?
The Ab glider and rowing machine are best for love handles. You can do both abdominal crunches and side crunches for best results.
5.How much weight does an Ab exercise machine support?
A good branded abs exerciser can withstand user weights of 120 to 150 kgs.
6.Are the stomach exercise machines fixed or adjustable?
Most abdominal workout machines come with adjustable incline and decline options that help increase the intensity of your workouts. See the specifications before buying.
7.Difference between Curved sit up bench vs straight bench?
While the straight sit up benches are ideal for all men and women, the curved sit up benches are ideal for those with back problems.
How to Perform Decline Sit Ups or Ab Crunches Properly?