A Fitness band aka Smart band is a wearable tracking device that help monitor your daily activities like steps taken, distance traveled, calories burned, sleep patterns, blood pressure and even your heart rate continuously.
If you're health conscious, then these advanced fitness trackers are very beneficial in tracking or monitoring your fitness goals.
According to a
study
published in JMIR, an advanced digital health research facility,
wearing fitness trackers actually increased physical activity in participants
, which is very encouraging.
There are many wearable tracker brands available in the Indian market that claim to track your activities more accurately but fail miserably. So, in this article, we'll be discussing the Top 10 most accurate fitness trackers that deliver exactly what's promised.
Top 10 Best Fitness Bands in India:
| Fitness Bands | Features | Battery Life | Ideal for |
| --- | --- | --- | --- |
| 1.Fitbit Charge 4 (The Best Activity Tracker) | GPS integration, Tracks biking, swimming & elliptical training, Highly accurate | 7 Days | Athletes, High Fitness Needs |
| 2.Mi Band 5 | PAI, Magnetic Charging, Full Touch Display, Unlimited Watch Faces | 14 Days | Regular Fitness Tracking |
| 3.Honor Band 5 (Feature Rich) | Premium design, Smart music control, Accurate tracking, SpO2 detaction | 14 Days | Advanced Fitness Enthusiasts, Bodybuilding |
| 4.OnePlus Band (Best Budget Fitness Tracker) | Multiple exercise modes, SpO2 Monitor | 14 Days | Regular Gym Goers & Elderly |
| 5.Oppo Smart Band Style | Stylish band design, SpO2 monitor, watch faces support | 12 Days | Regular Use; for Men & Women |
| 6.GOQii Vital 2.0 (Best BP Monitor Band) | Blood Pressure monitor, Free Personal coach | 7 Days | Senior People with Health Issues |
| 7.Honor Band 5i | Built-in USB connector, SpO2 monitor, Music control | 7 Days | Regular Use |
| 8.Redmi Smart Band | Best battery life, Phone finder, Best sleep tracker, Watch faces, Direct USB Charging Port | 14 Days | Regular Use |
| 9.Noise ColorFit 2 (Best Smart Band for Women) | Female health tracking, Built-in USB for charging, HR Monitor, Remote camera | 5 Days | Regular Use |
| 10.Realme Band | multiple watch faces, in-built charging port, HR monitoring | 10 Days | Regular Use |
Note: These are not standalone Smartwatches and hence they should be paired with either an Apple or Android Smartphone in order to track the live and historical data.
1. Fitbit Charge 4 Activity Tracker
Fitbit is well-known for their accurate health tracking wearable devices and the Charge 4 model is their latest Smart band with built-in GPS.
In fact, it is the best fitness band under 10000 price range and comes included with both S & L size bands.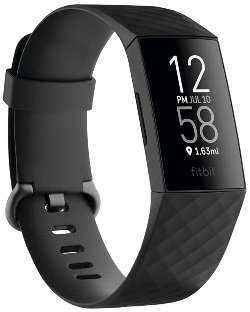 The band comes with automatic exercise recognition like runs, swims, elliptical etc…
It tracks your resting heart rate to calculate your calorie burn. The real-time heart rate zones help you pick up the fat burn, cardio or peak zones to maximize your workouts.
There is also the 24/7 heart rate tracking feature. It even has built-in GPS.
The sleep tracking is highly accurate and it automatically tracks your time spent in light, deep and REM sleep stages & provide you with tips to get better sleep.
The Fitbit app helps women to track their periods, record symptoms and even predict ovulation calendar.
The battery lasts up to 7 days on continuous usage and 5 hrs when using the GPS.
The band is swim proof and water resistant up to 50m. It is made of aerospace-grade aluminum, Corning Gorilla Glass panel and hence is scratch-resistant.
You can also go for the Fitbit Alta HR Smart Band has almost similar features that the Charge HR had, but comes with a slim display when compared to the later. However, it lacks the GPS feature.
2. Mi Smart Band 5
The Mi Band 5 is currently one of the best fitness bands under 3000 in India.
It comes with a 1.1 inch full touch color AMOLED display that looks almost similar to the Mi Band 4, but supports Magnetic charging.
The battery lasts up to 14 days on a single charge and when you use the continuous heart rate monitoring feature, you'll get 1 to 2 days of power.
Xiaomi has added PAI (Personal Activity Intelligence) feature that tracks all your fitness activities on the go.
The tracker supports up to 11 professional sports including running, rope skipping, yoga, elliptical, swimming, rowing, cycling etc…
Xiaomi has added the stress monitoring feature that comes with guided breathing exercises when it detects any increase in stress levels.
The sleep monitoring feature is also pretty good with REM cycle tracking support.
It also comes with dedicated women heath monitoring option that allows you to track menstrual cycles with ease.
You can also change the watch faces that suit your styling.
The good thing about the Mi Band 5 over its predecessor is the addition of magnetic charging capability, which is hassle free.
You can also go for the
Mi Band 4
, which is priced under 2000 Rupees, in case if you're tight on budget.
3. Honor Band 5
The Honor Band 5 comes with premium build quality and looks amazing in terms of the design.
It comes with a heart rate monitor, a very large screen (0.95" AMOLED color display) and SPO2 detector that monitors the oxygen levels in your blood.
There is a home button on the screen that controls all the features on the band without using your Smartphone.You can also track various swimming activities like major strokes, speed, number of turns, distance, calories burned and the average SWOLF.
The band is equipped with an optical HR sensor that has PPG (photoplethysmogram) for higher accuracy.
It also supports continuous heart rate monitoring feature.
The remote control camera access feature is available for Huawei smartphones with EMUI 8.1 or higher.
The strap quality is also very good and feels comfortable to wear for longer periods.
It comes with an easy clip-on mechanism that fits your wrist securely.
It even comes with multiple holes to suit people with small hands.
The Huawei TruSleep tracking technology is able to accurately monitor your sleep cycle to get insights about your sleep patterns.
There is also the 6-axis accelerometer that provides the most accurate data and is said to be the best fitness band under 2000 price segment.
The previous variant '
Honor Band 4
' can also be considered if you're looking for the best budget Smart band under 2500.
4. OnePlus Band
OnePlus is well-known for their superior quality Android Smartphones and they've recently launched their first Smart band in India, named OnePlus Band.
It comes with dual color strap combo option that goes well with both casual and formal wear.
The band sports 1.1″ AMOLED display and even allows you to customize the watch faces according to your choice.
Surprisingly, OnePlus has included SpO2 monitoring feature, which is very important and useful in these Pandemic situations.
You can also track your sleep, heart rate and day to day activities like walking, running, yoga, cricket, swimming etc…
By installing the OnePlus Health app, you'll be able to customize the features and perform different settings.
You can also use the Smart band to control the music, camera shutter and even read the app notifications on your wrist.
With full charge, you'll get up to 14 days of battery life.
5. Oppo Smart Band Style
Oppo, one of the popular Smartphone brands in India, has unveiled its first fitness wearable in the Indian market.
The Smart band looks very stylish and is suitable for both men and women with small to medium hand sizes.
Oppo has also included the most requested feature in these pandemic times, the dynamic SpO2 monitor.
The band sports a 1.1″ color AMOLED touchscreen with scratch-resistant glass.
It supports up to 40 watch faces and tracks up to 12 workouts, which include cricket, yoga, swimming etc…
The real-time heart rate monitoring comes handy in many situations. You can also control the music player on your Smartphone using the band.
The band gives a decent battery life of up to 12 days on a full charge. You also get the Black, Sports and Style straps, included with the purchase of the Oppo Smart Band Style.
6. Samsung Galaxy Fit2 Smart Band
Well, Samsung has launched their latest Smart band a huge gap after their Galaxy Fit e Smart Band into the Indian market.
The Galaxy Fit2 Smart Band sports a 1.1 inch AMOLED display with 3D glass and the strap is made of rubber material, which is comfortable to wear for longer periods.
The display shows date, time, alarm clock, call and text alerts along with the step count.
You also get over 70 watch faces that can be assigned to fit your style.
It tracks your heart rate, steps, calories, distance covered and sleep cycles effectively.
It has up to 21 days of long battery life and is also water resistant up to 50m.
7. GOQii VITAL 2.0 Activity Tracker
This is another unique fitness tracker that is primarily recommended for people with high/low blood pressure.
It is also the best fitness band under Rs.2000 in India.
The band measures your systolic and diastolic blood pressure in just a minute.
It sports a broader OLED color display and supports smart notifications like SMS, calls, email and WhatsApp.
The 'exercise mode' lets you track your daily activities like steps, heart rate, duration of exercise, calories burned etc…
The band lasts up to 10 to 15 days on a regular usage. The USB is integrated into the strap and hence separate charger is not required. You can simply connect the strap to USB port of laptop/power bank/mobile charger for charging your device.
The band is waterproof and swim friendly.
Along with the GOQii Vital 2.0 tracker, you get 3 months of personal coaching for free.
8. Honor Band 5i
Honor Band 5 is already one of the best fitness trackers in India at this budget.
When comparing the Honor Band 5 with Band 5i, the later comes with almost same specifications but without NFC and less battery life.
The Honor Smart band sports a 0.96 inch TFT full touchscreen display with adjustable brightness and home button control.
You can customize the watch faces as per your mood.
It has TruSleep scientific sleep monitoring, TruuSeen heart rate monitoring and multiple sports modes support.
The band is also water resistant up to 50 meters.
The battery lasts for 7 days on single charge without continuous HR monitoring.
9. Redmi Smart Band
Redmi, the sister brand of Xiaomi has recently launched a budget fitness band in India under 1500 that comes with decent built quality and all the required smart features.
The Redmi Smart Band sports a 1.08 inch Full Touch Color Display with adjustable strap.
The band shows smart notifications like SMS, call alerts, social media notifications etc… on the display.
It comes with continuous heart rate monitoring, step tracking and advanced sleep analysis.
The smart band supports up to 50+ watch faces and 5 professional sports like outdoor running, treadmill running, cycling, power walking and freestyle exercise.
It has phone unlock feature (Android only) i.e., you can use your smart band to unlock your mobile without using the fingerprint or password.
You can also use your band to control the music, reject/silence the incoming calls, see weather forecasts etc…
The band lasts for up to 14 days on a single charge. If automatic heart rate feature is enabled, you'll get 1 to 2 days.
The band comes with direct USB charging capability i.e., you can just plug the band directly into a USB power source to charge it. This saves the hassle of carrying the USB cables along with you all the time.
10. Realme Band
Realme, another popular Xiaomi alternative Smartphone maker has recently launched their first Smart band in India.
It was very aggressively priced at around Rs.1500 and stands as the top competitor to the Mi Band 3 and Honor Band 5i devices.
The Realme band comes with a 0.96 inch large vertical color display with touch button for easy navigation between the menus.
It comes with the ability to track up to 9 sports modes that include walking, running, cricket, yoga etc…
You can also set up the 'Realme Link' app to display the mobile notifications like incoming calls, SMS, WhatsApp, Gmail, Instagram etc… right on your wrist.
The band also comes with the support for choosing your favorite dial face using the mobile app.
The fitness band once charged will last up to 10 days with occasional usage of heart rate monitor.
However, with continuous real-time HR monitoring feature, you'll be getting anywhere between 1 to 2 days of battery life.
The realme band comes with in-built charging port that can be directly plugged into a USB port to charge the device.
11. Fastrack Reflex 2.0
The Fastrack Reflex Smart band comes with a OLED display and can track your steps, distance, calories, flight of stairs and even your workout minutes.
It also has sleep monitoring, vibration alarm and sedentary reminder features.
The band supports Call & SMS alerts from both Android & iOS devices, when connected.
The band is water-resistant too. It needs 60 minutes to get fully charged and gives up to 4 days of battery life.
12. Noise ColorFit 2
It is one of the beautifully designed fitness trackers in India with stylized look and premium feel. You can get this beautiful looking Smart band under Rs.1500 in India.
The ColorFit 2 sports a 0.96" full color LCD display and is available in 3 color straps.
It supports smart notifications like calls. Sms, app alerts etc…
You can choose from 14 different sports modes in the NoiseFit Sport App such as walking, running, cycling, yoga etc…
Female health tracking is one feature that I like the most about this activity band. You can enter your menstruation dates and the app will automatically calculate your periods and menstruation cycles.
The band is IP68 waterproof and can even be worn in the rain.
You get a battery life of up to 5 days and a standby of up to 7 days.
Fitness Band Buying Guide India
Whether you're planning to purchase the smart band or activity tracker from online or offline stores, there are some features you should consider before buying the best fitness band in India.
1. Style or Form Factor
The first thing anyone notices when you wear a Smart band is the looks. Most popular brands offer premium look and feel.
You can get the wearables in different forms – clip-ons, bracelets or watches.
The most ideal ones are the bracelets with premium rubber material, which are firmly attached to your wrist and provide better tracking.
2. Activity Tracking
The main purpose of a fitness band is to track your daily activities like steps, distance, calories, sleep etc…
Almost all the activity trackers calculate your basic activities like walking, running and sleep.
i. Steps Tracking
Using the built-in pedometer or accelerometer, a fitness band tracks your steps with 90 to 95% perfection.
The accuracy also depends on the brand and the sensors they use in the tracker.
ii. Calorie Tracking
Calorie counting is pretty easy when your steps are accurately tracked.
The band displays the number of calories you've consumed by measuring the steps taken or stairs climbed on any particular day.
Some advanced trackers come with special algorithms to analyze your current bodyweight and provide suggestions for better health improvement.
iii. Sleep Tracking
Most smart trackers are also able to track or monitor your sleep routine using a 3-axis accelerometer to sense any movements during the night time.
It also displays statistics like how much time you've slept, deep sleep and light sleep etc…
iv. Heart Rate Monitoring
A decently priced fitness band usually comes with a heart rate sensor and it helps in monitoring your heart rate during activities or workouts.
It is very beneficial for those who're trying to lose weight or improve their workout performance, especially the athletes or bodybuilding enthusiasts.
3. Advanced Fitness Tracking Features
There are some popular fitness tracker brands like Fitbit, Garmin, Amazfit that offer advanced features to improve the accuracy of tracking.
i. Built-in GPS
Some fitness bands with built-in GPS, though expensive than the regular ones, will track your steps and distance more accurately.
It can even track your speed, number of laps taken and exact location using the Global positioning system.
GPS is very beneficial for those who prefer running outside, especially the athletes or fitness enthusiasts.
ii. Blood Pressure Monitor
If you're suffering with low/high blood pressure issues, then the ideal solution is to track your BP at regular intervals and make changes in your food accordingly.
Luckily, there are some advanced activity trackers that can monitor your blood pressure directly from your wrist without having to carry separate BP monitors that are bulky.
You can check your results either on your Smartphone or laptop. Some bands also send your data to the doctors (connected) for further analysis.
4. Swimproof or Water Resistant
While most basic fitness trackers are water-resistant (sweatproof or splash proof), there are some popular brands that also support wearing those bands for swimming or while taking a shower.
See the specs carefully if you want swim-ready smart bands.
5. Mobile App Support
Almost all the fitness tracker bands come with the support to be synced with your Smartphone via the dedicated mobile application.
You can view all your stats like steps, calories, sleep, heart rate etc…daily, weekly, monthly or yearly using the mobile app.
6. Usage Type
If you're an athlete or sportsperson, then you should definitely consider buying the fitness band from popular brands like Fitbit or Garmin as they provide a more accurate tracking using the built-in GPS and other advanced sensors.
And, if you're a regular gym goer or occasional jogger, the basic smart bands are more than enough for your needs.
So, spend wisely based on your usage type.
7. Smartphone Compatibility
As we've mentioned earlier, all the trackers support Bluetooth connectivity for connecting to your Smartphone wirelessly.
Most popular brands support both Android and iOS mobiles. So, you don't have to worry much about the compatibility issues.
Some bands can also be synced with 3rd party fitness apps for additional analysis. Read the specs carefully.
8. Battery Life
Activity trackers are usually designed for prolonged wear and so the battery life plays a crucial role.
Most trackers come with Li-ion batteries that lasts for a minimum of 5 days to 30 days, depending on your usage and lifestyle.
If you use the basic features like calorie tracking, then the band will last very long. But, if you regularly use the HR monitor or GPS, then the battery will last for only a couple of days.
You can charge these bands by connecting to a USB port on the laptops or charger or power banks.
9. Smart Band Prices in India
As mentioned earlier, the advanced fitness trackers are usually costlier when compared with basic fitness bands.
As a thumb rule, basic fitness bands start from Rs.1000, while the advanced trackers start from Rs.5000.
Fitness Band User FAQs
1. Do you really need an activity tracker to stay healthy?
Short answer is No! But, if you're struggling with health/weight management issues, then getting a fitness tracker is definitely an added advantage as it would make tracking simpler and shows you statistics of what's working and what's not working.
2. Which fitness band is best in India?
It actually depends on the individual requirements and varies from one person to another.
If your sole purpose is to track your steps and calories burned, then a basic fitness band like 'Mi Band' is good enough for you.
If you wanted to track your heart rate while working out or want some advanced metrics, then you may go with Mi Band 4 or Honor Band 5.
If you are a sportsperson with high level of fitness, then you can go for Fitbit trackers with built-in GPS. Hope you get the point.
3. What metrics should you track?
Well, it depends on your goal.
As I said above, athletes need to track their resting metabolic rates, heart rates and miles, while a regular guy with weight loss goals will need to track their calorie burn, distance covered, exercises etc…
4. Are the readings by fitness trackers accurate?
Most trackers are good at tracking the number of steps and amount of exercise you do.
But, if you want accurate tracking, then you should invest in the advanced trackers that can monitor your heart rate using GPS, blood pressure, sleep etc…
5. How to see your statistics or metrics?
Well, you can either sync the band with your smartphone or computer and watch all your metrics on a single dashboard for analysis.
Most brands have their own/dedicated mobile app for different OS like iOS and Android.
So, all you need to do is install those apps and connect your band wireless using Bluetooth.
That's it! All your data is now visible on your mobile/computer.
6. How to sync your fitness tracker with a Smartphone?
It is very easy to sync your smart band with your mobile. Every brand will have their own dedicated fitness app for both Android and iOS mobiles.
Just install the app and turn on the Bluetooth on your mobile, it will automatically search for your Smartband and will connect it. And, then all your data will be synced between your devices automatically.
7. Can you pair your fitness band with more than one device at a time?
Unfortunately, No. You can pair your fitness band with only one device at a time as it runs complex algorithms in the background and pairing with multiple devices will make it hard to function properly.
8. Which brand is best for fitness band?
The top fitness band manufacturers are Fitbit, Samsung, Honor, Xiaomi (Mi), Amazfit and Huawei.
9. Can I answer calls with my Smart band?
Unfortunately, there is no fitness tracker that comes with the option to answer phone calls at this moment. You can only either accept or reject them. Let us hope in the future that this feature will be added to the latest fitness bands by the manufacturers.
10. Can I play music on the fitness band?
Yes, you can actually control your Smartphone's music player from your wrist band wirelessly.
11. How can I take photos using my band?
Some smartbands come with camera shutter option that lets you wirelessly control your Smartphone's camera to click photos.
12. How does the Fitbit or other tracks know I'm sleeping?
These trackers make use of the sensors to determine your body movements, heart rate etc… to know whether you're sleeping and the different stages of sleep cycle throughout the night.
13. Are fitness bands harmful to health?
Fitness trackers do emit some kind of radiation while connected to your mobile via Bluetooth but it is not harmful enough to cause any health effects.
If you're still concerned about it, then simply sync your devices once or twice per day and turn off the Bluetooth during the rest of the time.
Takeaway:
Fitness bands are designed to fit into an array of requirements. If you just want to keep a track of the number of steps you take per day, a basic model should be fine. It should not cost you more than Rs.5000.
However, if you are keen to have a detailed report on your pace, distance, speed, and stride, along with heart rate and sleep, you would need an advanced model. Some models even provide data customized to the daily routines of golfers, swimmers, weight lifters, marathon runners, and skiers.
Well, that's the end of the list friends! Hope you'll reap the full benefits of a best fitness band in India. Make sure that your mobile is running either Android (4.4 or above) and iOS (7.0 or above) in order to sync effortlessly.