Drinking enough water is vital for good health and well-being. At the same time, it is very important to drink only purified water as the regular tank water contains several impurities, which can cause severe health issues in the long run.
Generally, not everyone likes to drink water at normal/room temperature. While some like it hot/warm, others like to have cold water for regular use.
Until a few months back, the RO water purifiers used to dispense only normal purified water. Fortunately, with demand from the public, the manufacturers have introduced water purifiers with hot and cold water dispenser system.
So, starting now, you don't have to heat or refrigerate the water separately as the latest RO purifiers can dispense both hot and cold water instantly with just the click of a button.
Benefits of Buying a Hot/Cold Water Purifier
You don't have to manually keep the water in the refrigerator as you can instantly get cold water from the purifier.
No manual efforts needed for boiling the water on the stove or in the kettle. Either you need the hot water for making tea, coffee, instant noodles or simply for drinking, you can get the hot/warm water directly from the purifier.
Since it involves no manual intervention w.r.t heating or refrigerating, there are less to no chances of contamination.
You don't have to buy a water purifier and water dispenser separately as the hot & cold water purifiers serve dual purpose and hence you can save money & counter space as well.
Best Hot and Cold Water Purifiers in India
1. Blue Star Stella Hot & Cold RO+UV Water Purifier
Blue Star is a well-known brand when it comes to cooling appliances like Inverter air conditioners and they also have a lineup of amazing water purification systems.
The Blue Star Stella ST4BSHC01 is one of the best water purifiers with hot and cold water in India.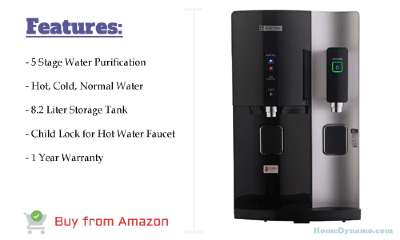 The RO comes with 5-stage water purification technology, which include Sediment Filter, Pre-Carbon Filter, RO Membrane, Post Carbon Filter and UV Lamp.
It can dispense purifier drinking water at hot, cold and normal temperatures as per your choice with a single button click.
It has two separate faucets, one for hot water (up to 85°C) and another one for cold/normal water (as low as 5°C).
The hot water faucet can be locked using the 'Child Lock' feature to prevent any accidental burns.
The total water tank capacity is 8.2 liters out of which 4.6 liters is dedicated for storing room temperature water, 3 liters for cold water and 0.6 liters of storage for hot water.
There is also the 'auto clean' function that automatically drains the stagnant water if you haven't used it for 4 days in a row, which is very helpful for frequent travelers.
2. AO Smith Z8 Green RO Hot Water Purifier
The AO Smith water purifiers usually look more stylish when compared with the other brands in the market and the Z8 Green model is no exception.
The purifier comes with 8 stage water purification technology and the Green series is known for its highest recovery of > 55%, where as the ordinary RO purifiers have only 25% recovery rate.
This RO purifier doesn't have the cold water dispensing mechanism, but can dispense hot water at two different temperatures – 45°C (drinking) and 80°C (cooking).
It comes with RO + SCMT tech which ensures all types of harmful impurities are eliminated effectively and the MIN-TECH (mineraliser Technology) feature ensures all the essential minerals are kept intact.
The water is also safe for babies to drink as it is gone through 8 stages before coming out from the purifier.
3. Bepure 4G Hot Normal Cold Water Purifier
BePure is into the manufacturing of domestic water purification systems since 2002 and has service networks all over India across 12000 pin-codes.
The BePure 4G water purifier comes with 8 stage ultra purification process with mineralizer and TDS controller built-in.
The water storage tank is made of 100% stainless steel (304) material and can purify up to 15 liters per hour.
It has a tank capacity of 9 liters out of which 7 liters space is used for storing regular water, 1 liter for hot water and 1 liter for cold water storage.
The max operating TDS it supports is up to 2500 ppm.
The purifier has two separate faucets, one for hot water (80 to 90°C) and another for cold/normal water (15 to 20°C).
Do note that the cold water will be mildly cold and not chilled.
Final Word:
As of now, only a few brands are manufacturing the best hot and cold water purifiers in India and out of them, we have selected the top 3 VFM products that have decent reviews from the customers.
We, at our HomeDynamo office, are using the Blue Star Stella hot and cold water purifier and it is serving our purpose for now. We'll also update this list as and when we find any new cold and hot water purifier that is worth your money.